Movie archive: 13 search hits
Interviews: no search hits
Movie archive
American Pastoral | USA 2016 | Drama, Crime Drama | Ewan Mcgregor | 12
Ewan McGregor adapted the 400 page Philip Roth novel AMERICAN PASTORAL in his directing debut. A decent citizen is thrown off his life course when his daughter bombs a local post office and disappears in 1968.
USA/Großbritannien 2015 | Drama | Tom Hooper | 6
Tom Hooper's (THE KING'S SPEECH) lavish reimagining of the life of Lili Elbe, one of the first transsexuals ever to undergo sex reassignment surgery.
Großbritannien 2016 | Stephen Frears
Florence Foster Jenkins, the "world's worst singer," was a promising piano player in her youth but lost her musical ability due to a Syphilis related illness. Stephen Frears tells her life story as a feminist tragicomedy.
USA/Großbritannien 2014 | Biography, Drama, Thriller | Morten Tyldum | 12
During World War II, the English mathematician Alan Turing tries to crack the German enigma code for the British Secret Service with help from fellow mathematicians.
Isle of Dogs | USA 2018 | Animation, Adventure, Comedy | Wes Anderson | 6
Wes Anderson's animated film is set on a Trash Island near the imaginary Japanese city Megasaki. The mayor has banned all dogs from the city and all the canines lead a miserable existence until 12 year old Atari looks for his dog Spot on the ...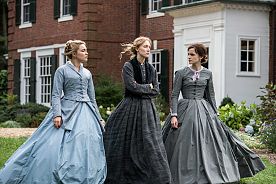 USA 2019 | Drama, Literary Film Adaptations | Greta Gerwig | oA
Greta Gerwig's adaptation of the 1868 novel by Louisa May Alcott. The four March sisters are moving from childhood to adulthood, briefly stuck in a transitory state as "little women".
The Secret Life of Pets 2 | USA 2019 | Animation, Comedy, Tierfilm | Chris Renaud | oA
USA 2016 | Adventure, Action, Science Fiction | Gareth Edwards | 12
Shape of Water | USA 2017 | Fantasy, Love-story, Modern Fairytale | Guillermo del Toro | 16
Sally Hawkins saves the "Creature from the Black Lagoon" in Guillermo del Toro's nostalgic Cannes-winner.
USA/Frankreich/Rumänien/Spanien 2018 | Drama, Western | Jacques Audiard | 12
The Sisters Brothers are ruthless assassins. They are meant to get a secret formula from a gold prospector that will simplify the digging of gold and then murder the man, but the prospector has used his charm and friendliness to befriend one of them.
USA 2017 | Crime Comedy, Mystery | George Clooney | 16
SUBURBICON tells the story of the disintegration of a model family and a model suburb in 1950s America from the prespective of a young boy. The screenplay is written by the Coen brothers and the film is directed by Goerge Clooney.
Großbritannien 2015 | Drama, Historical Film | Sarah Gavron | 12
SUFFRAGETTE follows the trajectory of Maud Watts (Carey Mulligan), a laundry worker and young mother, who turns from interested bystander into a committed suffragette standing at the side of bomb-laying Edith Ellyn (Helena Bonham-Carter).
USA 2014 | Action, Drama, Sportfilm | Angelina Jolie | 12 | NEW RELEASE
After a near-fatal plane crash in WWII, Olympian Louis Zamperini spends a harrowing 47 days in a raft with two fellow crewmen before he's caught by the Japanese navy and sent to a prisoner-of-war camp.
ALLE ANGABEN OHNE GEWÄHR.
Die Inhalte dieser Webseite dürfen nicht gehandelt oder weitergegeben werden. Jede Vervielfältigung, Veröffentlichung oder andere Nutzung dieser Inhalte ist verboten, soweit CINEMATIC BERLIN nicht ausdrücklich schriftlich ihr Einverständnis erklärt hat.