Movie archive: 10 search hits
Interviews: no search hits
Movie archive
Blutsauger – Bloodsuckers | Deutschland 2021 | Comedy | Julian Radlmaier
The surreal, historical discourse pop comedy takes the vampire metaphors found in Marx' Kapital seriously and interrogates how valid Marxist categories are today.
Bolshoi Babylon | Großbritannien 2015 | Documentary | Nick Read, Mark Franchetti | 6
In January 2013 Sergej Filin, the artistic director of the Moscow Bolshoi Theater, was attacked with acid and one of his dancers was behind it. BOLSHOI BABYLON sheds light on what occurred backstage.
Boulevard | USA 2014 | Drama | Dito Montiel | 12
Nolan Mack (Robin williams), who is 60 years old, married and works in a Bank, dreams of a different life. When he meets the callboy Leo for a fleeting moment his dreams seem to come true.
Human Nature (2019) | USA 2019 | Documentary | Adam Bolt
HUMAN NATURE condenses the polarizing discourse about CRISPR/Cas technology into an informative and thrilling documentary.
Schweden 2020 | Documentary | Nathan Grossman | oA
Portrait of the environmental activist and face of "Fridays For Future", Greta Thunberg.
Kevin Roche: The Quiet Architect | Irland 2018 | Documentary, Biography | Mark Noonan | oA
Kevin Roche's buildings convey an elegant functionality and spiritual serenity. That's mostly due to his meticulous, empathetic, and unpretentious way of working that puts a lot of value on practical details and the direct contact to future ...
Navalny | USA 2022 | Documentary | Daniel Roher
The documentary delves into the background of the arrest and imprisonment of Alexei Navalny in 2021, especially focusing on what happened since the Russian oppositionist was poisoned by agents of the Russian secret service FSB.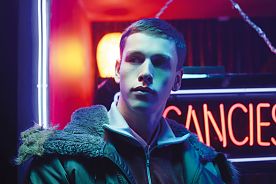 Postcards From London | Großbritannien 2018 | Drama | Steve McLean | 12
Jim goes to London searching for adventure and gets involved with the "Raconteurs," a group of elegant male escorts. They take Jim under their wings and train him to become a master of "post-coital conversation."
Australien 2021 | Documentary | Jennifer Peedom
RIVER is pure luxury. A hired orchestra, Willem Dafoe as the narrator and footage of rivers that – without exaggeration – are some of the most beautiful and sublime images that a documentary has ever shown.
Deutschland, Kanada 2019 | Documentary | Mirjam Leuze | oA
Hermann Meuter and Janie Wray record whale activities in order to use this scientific data to support the battle of the indigenous population of British Columbia against a planned liquid gas project.
ALLE ANGABEN OHNE GEWÄHR.
Die Inhalte dieser Webseite dürfen nicht gehandelt oder weitergegeben werden. Jede Vervielfältigung, Veröffentlichung oder andere Nutzung dieser Inhalte ist verboten, soweit CINEMATIC BERLIN nicht ausdrücklich schriftlich ihr Einverständnis erklärt hat.