Cinema listings: no search hits
Movie archive: 5 search hits
Interviews: no search hits
Movie archive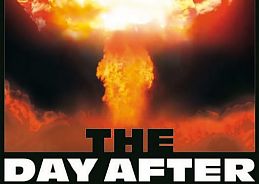 The Day After | USA 1983 | Drama | Nicholas Meyer
1983 TV film about the effects of a nuclear exchange between the USA and the Warsaw Pact.
Time after Time | GB 1979 | Science Fiction, Thriller | Nicholas Meyer | 16
H.G. Wells pursues Jack the Ripper to the 20th Century when the serial murderer uses the future writer's time machine to escape his time period.
Star Trek II: The Wrath of Khan | USA 1982 | Science Fiction | Nicholas Meyer | 12
In THE WRATH OF KHAN from 1982 the Captain encounters his arch nemesis Khan Noonien Singh who wants to create genetically engineered "super humans" – and kill Kirk.
Star Trek IV: The Voyage Home | USA 1986 | Science Fiction | Leonard Nimoy | 12
Star Trek VI: The Undiscovered Country | USA 1991 | Science Fiction | Nicholas Meyer | 12
The last cinema adventure with the old William Shatner crew.
ALLE ANGABEN OHNE GEWÄHR.
Die Inhalte dieser Webseite dürfen nicht gehandelt oder weitergegeben werden. Jede Vervielfältigung, Veröffentlichung oder andere Nutzung dieser Inhalte ist verboten, soweit CINEMATIC BERLIN nicht ausdrücklich schriftlich ihr Einverständnis erklärt hat.