Movie archive: 10 search hits
Interviews: no search hits
Movie archive
Bones and All | USA 2022 | Drama, Horror, Love Stories | Luca Guadagnino
Shy cannibal Maren (Taylor Russell) is searching for her mother and finds vagabond Lee (Timothée Chalamet), a soul mate, along the way,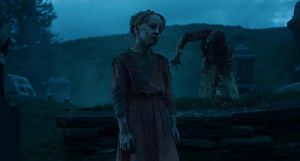 USA 2019 | Horror, Comedy | Jim Jarmusch
Even though the name of the US president isn't mentioned, demagogue Trump, his followers, and the insidious decay of values and moral inevitably come to mind in Jarmusch's meta zombie film.
The Last Days of Disco | USA 1998 | Drama, Comedy | Whit Stillman
Lady Susan: Love and Friendship | USA 2016 | Drama, Comedy, Love Stories | Whit Stillman | oA
Whit Stillman constructs a biting marriage comedy based on Jane Ausen's early epistolary novel "Lady Susan" with the scheming quick-witten widow Lady Susan, played by Kate Beckinsale, at the center.
Queen and Slim | USA 2019 | Drama, Crime Drama | Melina Matsoukas | 12
QUEEN & SLIM is the rare film that feels both important and super cool.
The Snowman | Großbritannien 2017 | Thriller, Crime Drama, Literary Film Adaptations | Tomas Alfredson | 16
A thriller with Michael Fassbender based on a Jo Nesbo book.
USA 2016 | Drama | Oren Moverman
Two couples – played by Steve Coogan, Laura Linney, Richard Gere, and Rebecca Hall – meet for a luxurious 7 course menu. In reality, the dinner is an emergency meeting: their sons attacked a defenseless homeless woman.
ALLE ANGABEN OHNE GEWÄHR.
Die Inhalte dieser Webseite dürfen nicht gehandelt oder weitergegeben werden. Jede Vervielfältigung, Veröffentlichung oder andere Nutzung dieser Inhalte ist verboten, soweit CINEMATIC BERLIN nicht ausdrücklich schriftlich ihr Einverständnis erklärt hat.