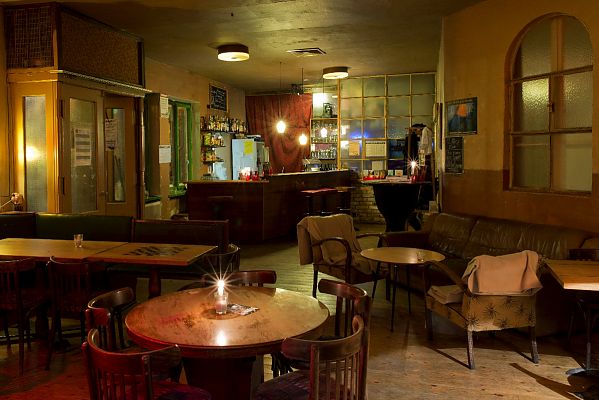 News
A Personal Ode to Berlin Kinos
One of my earliest and strongest movie memories involves Steven Spielberg's 1982 film, E.T. I loved the movie, but I was terrified of the scene when Elliott, who didn't seem that much older than I was at the time, first encounters E.T. and they both scream their heads off. When I quickly dragged my mom to the movie a second time, the suspense of the scene forced me to look away from the screen and instead look at the audience members around me. I recall seeing people covering their eyes with their hands, people with smiles on their faces in gleeful anticipation, people lost in the cinematic moment. It was the energy of the audience that really caused that movie, and that scene, to leave such a lasting impression.

I've had plenty of similar experiences since, but if I'm being honest, my love of going to the movies dwindled as I got older. When megaplexes took over the US and squeezed out most of the independently-run cinemas, it became apparent that the ugly, modern monstrosities held a deep disinterest in the cinematic experience.

My personal rock-bottom occurred during a first-run screening of Jim Jarmusch's BROKEN FLOWERS. The film was projected so dimly, it was like watching the movie through a veil of fog. Sadly, it wasn't an uncommon occurrence. The corporate-run chain movie theaters were all about raising prices and cutting expenses, even if it meant dimming the projectors in the misbegotten idea that the light bulbs would last longer.

This uncaring attitude persisted throughout the 2000s and 2010s. Going to see a movie often meant visiting a theater that had all the charm of an airport terminal, getting price-gouged on your tickets and snacks, and feeling lucky if your projectionist had any knowledge about things like aspect ratio and screen masking, or cared enough to put the movie in focus. (If you think I'm exaggerating, you can read this: https://screencrush.com/consumer-guide-to-theater-projection/)

Of course, there are some great cinemas in the US, run by passionate cinephiles. A personal high point for me (coincidentally, also Jim Jarmusch-related) was seeing the premier of DEAD MAN at The Castro in San Francisco, a true film palace and cinematic mecca that makes you feel like you're in the Notre-Dame of movie theaters. Later on, I had a membership to The Brattle Theater, an amazing one-screen repertory theater next door to Harvard University that prides itself on serving as a film school to Bostonians (a service that the excellent Harvard Film Archive also performs, for that matter). Nevertheless, if you wanted to see a first-run movie, even in a major metropolis like Boston, your options for a good experience were limited.

That's not the case in Berlin. It's been over five years since I last set foot in a US cinema, and I've been absolutely fine with that. This is due to the indisputable fact that Berlin's vast, colorful array of kinos are nothing short of a treasure. Indeed, the city has more than rekindled my love of the cinematic experience, it has generously expanded that love to a whole new level.

One of the first kinos I visited, by pure chance, was one of the city's oldest: Moviemento, (where, and I'm not making this up, I saw ONLY LOVERS LEFT ALIVE). Over a hundred years old, the theater has a beautiful bohemian vibe, with friendly staff (Tom Twyker once worked there as a projectionist!) -- and tickets for under 10 €. It's readily apparent upon entry that this place would never show an out-of-focus screening. And yes, it speaks to the number of bad screenings I've been to in the US that I don't take such matters for granted.

While Moviemento has its own unique charms, what's truly remarkable is that practically every kiez in Berlin has a similar, small, independently run kino that truly cares about providing a good experience. Moviemento's sister cinema, the Central in Hackescher Hof, is also a finely aged theater of cinematic delights. Whether you're in the East or West, you're probably close to a charming one-of-a-kind kino run by people who love cinema and care about your experience as a viewer. Il Kino in Neukölln, Sputnik in Kreuzberg, the Krokodil in Prenzlauer Berg, and in Charlottenburg there's an embarrassment of riches that includes the humble filmkunst 66 and the over-the-top Art Deco luxuriousness of the Astor Film Lounge.

What's more, even Berlin's prominent kino chain, the Yorck Kinogruppe, is a collection of unique, often beautiful kinos, each with its own history. My personal favorite is the International, which is where the DDR-run film studio DEFA used to hold its premiers (its formidable exterior even has a prominent cameo in the Charlize Theron punch-em-up flick ATOMIC BLONDE). Going to see a movie there still feels like an event worth dressing up for.

Of course, with all of these cinematic chapels being shuttered for who-knows-how-long, the kino I'm missing most of all is my local one: the b-ware! Ladenkino in Friedrichshain. My heart goes out to this tiny, homebrewed, three-screen wonder, which has been my reliable neighborhood kino for nearly four years now.

There are many reasons to love the Ladenkino. The DIY "lobby" exudes a ramshackle charm, since it's essentially an extended living room, with furniture likely dragged in years ago from the nearby Boxhagener Platz flohmarkt. The staff is friendly, the prices are low, and the selection of movies, which changes from day-to-day, is admirably eclectic. In its own way, the Ladenkino proves that the prevailing logic around US movie theaters, that bigger is always better, is bullshit. If I had to choose between watching a movie at some impersonal cookie-cutter kino with an IMAX-sized screen and an eardrum-rupturing sound system, or at the Ladenkino, with its wobbly seats, modestly-sized screens and the Crypt Keeper sitting over in the corner in his wheelchair, I'll pick the Ladenkino every time.

On top of all this, the Ladenkino is also home to the Filmkunst Videothek, which features a mouthwatering collection of over 16,000 movies (and some TV shows) on DVD, all available to rent. As with all of my favorite video stores over the years, this collection is well curated, with sections devoted to our best auteurs, whether it's Herzog, Hitchcock or Miyazaki.

Like all of Berlin's beloved kinos, the Ladenkino is looking for some support at this time. Chances are, the optimistic date of April 19th isn't going to mark a return to normal. Fortunately, there are now multiple ways you can show some love to the kino in your kiez and throw them a bit of a lifeline. Many kinos have websites where you can buy gift certificates or other goodies from their online shop. At the Moviemento site (https://shop.moviemento.de/) you can even buy 3,00 € worth of "Vorfruede." Genius.

As you may have heard, there are also initiatives like Start Next (https://www.startnext.com/b-ware), Helfen Berlin (https://helfen-shop.berlin/dein-unternehmen/b-wareladenkino/), and the LUUPS crowdfunding platform (https://www.luups.net/karte-berlin/#) that offer different gifts or future perks in exchange for donating some money now to your favorite kinos. Those links are for the b-ware! Ladenkino, which is currently offering a lifetime discounted membership for people who donate 100 € through Start Next.

It's easy to take certain things for granted and assume they'll always be around -- even special things like Berlin's extraordinary collection of kinos. But the only way to be certain of this is to do something to ensure that these places, and the people that run them, are able to stay afloat while movies take shelter in the online streaming zone. So, if you're fortunate enough to have some money to spare, please think about giving a donation to your local kino. The cinema gods will surely smile down upon you.
Sean Erickson
Foto: Kino Zukunft am Ostkreuz, Copyright: INDIEKINO BERLIN, Fotografin: Marei Wenzel