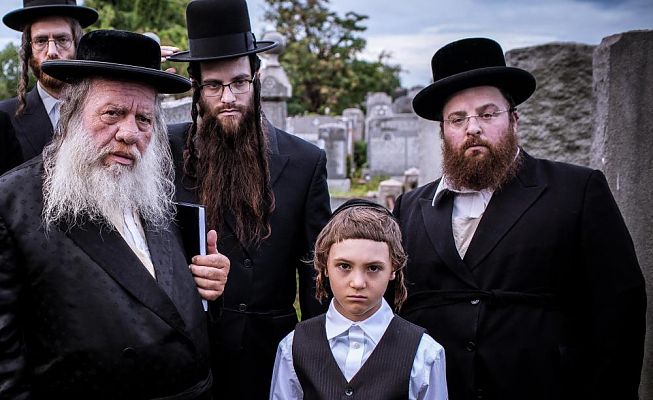 Menashe
MENASHE is based on the life of Hassidic stand up comedian Menashe Lustig. After the death of his wife, Hassidic Jew Menashe would like to raise his son on his own but that isn't allowed and everything else that Menashe touches goes wrong as ...
Borough Park, a neighborhood in Brooklyn with the highest population of ultra orthodox Hasidic Jews outside of Israel since the 80s. Director Joshua Z. Weinstein wasn't familiar with the Hasidic community and doesn't speak a word of Yiddish. MENASHE is the documentarian's first fictional film set in original locations with Hasidic actors and is almost completely in Yiddish. Cinema and television are actually forbidden in Hasidic communities. Weinstein's admission ticket to this world was Menashe Lustig, who was the first Hasidic Jew that posted a youtube video in 2006 and did stand up comedy. MENASHE is based on Menashe Lustig's own life: Menashe is a supermarket clerk who has been a widower for a year and has a son who is staying with his wealthy brother-in-law after a rabbi's ruling. Menashe wants to raise his son alone though it's against tradition, but it looks like the entire world is against him. The rabbi wants him to remarry. Menashe doesn't feel ready for it, less because of grief – it was an arranged marriage – and more because of his feelings of guilt. He muddles along in life alone, and now he he has to prove that he can become a "mensch." But Menashe always comes too late, has debts everywhere, and everything he touches goes wrong. Half situation comedy, half compassionate single father drama, MENASHE gives fascinating insight into a deeply religious community with its rules and rule-breaking. Menashe Lustig says this about the rule breaking of making this film: "it's always better to apologize to the rabbi than ask for permission."
Hannes Stein (INDIEKINO MAGAZIN)
Translation: Elinor Lewy
Screenings
OV

Original version

OmU

Original with German subtitles

OmeU

Original with English subtitles
ALLE ANGABEN OHNE GEWÄHR.
Die Inhalte dieser Webseite dürfen nicht gehandelt oder weitergegeben werden. Jede Vervielfältigung, Veröffentlichung oder andere Nutzung dieser Inhalte ist verboten, soweit CINEMATIC BERLIN nicht ausdrücklich schriftlich ihr Einverständnis erklärt hat.