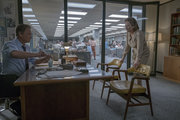 The Post
Steven Spielberg's film about the publishing of the secret "Pentagon Papers" in the Washington Post in 1971 is a passionate plea for an independent press that orients itself on facts, even when they don't align with one's own position.
Steven Spielberg's film THE POST celebrates a political culture that has largely disappeared in the established media and especially in the new online media. It's about one of the most important trials in the history of the US press. The New York Times published parts of the "Pentagon Papers" in 1971 which proved that the US government had been planning the Vietnam War for years and also knew that they couldn't win the war for a long time. The Nixon administration banned the publishing, but shortly after the Washington Post began to print more parts of the papers. The affair ended in the Supreme Court. The film begins with the Washington Post, led by Katherin Graham (Meryl Streep), the widow of publisher Philip Graham, preparing to go public, Graham has to decide whether the editor in chief Ben Bradley (convincingly gruff: Tom Hanks) should published the secret government papers that could help end the war. Her supervisory board advises against it. The worst case scenario would be a high treason charge, and they can definitely count on investors bolting.

The Washington Post is a social democratic paper and the papers chiefly disavow their own political allies. Ben Bradley has vacation pictures with the Kennedys on his desk, Katherine Graham confronts her friend, the former foreign minister Robert McNamara at dinner: "what were you thinking?" After facebook and google ruined journalism and user opinions have replaced supportive political bubbles, THE POST is a passionate plea for an independent press that orients itself on facts, even when they don't align with one's own position.
Translation: Elinor Lewy
Original title: The Post
USA 2017, 115 min
Genre: Drama, Biography, Historical Film
Director: Steven Spielberg
Author: Josh Singer, Liz Hannah
DOP: Janusz Kaminski
Montage: Michael Kahn, Sarah Broshar
Music: John Williams
Distributor: Universal Pictures International
Cast: Meryl Streep, Tom Hanks, Bruce Greenwood, Michael Stuhlbarg, Jesse Plemons, Sarah Paulson, Bradley Whitford, Alison Brie, Bob Odenkirk, Tracy Letts
FSK: 6
Release: 22.02.2018

Website
ALLE ANGABEN OHNE GEWÄHR.
Die Inhalte dieser Webseite dürfen nicht gehandelt oder weitergegeben werden. Jede Vervielfältigung, Veröffentlichung oder andere Nutzung dieser Inhalte ist verboten, soweit CINEMATIC BERLIN nicht ausdrücklich schriftlich ihr Einverständnis erklärt hat.