Cinema listings: no search hits
Movie archive: 11 search hits
Interviews: no search hits
Movie archive
Women Talking | USA 2022 | Drama | Sarah Polley
After the men of a Mennonite community get convicted of multiple rapes, the women have to decide what they are going to do. Sarah Polley's unconventional adaptation of Miriam Toew's novel follows the womens' discussion.
USA/Großbritannien 2015 | Drama | Todd Haynes | 6
New York, 1952. In the Christmas season the shop girl Therese (Rooney Mara) makes the acquaintance of a glamorous housewife: Carol (Kate Blanchett). They embark on a relationship they both daren't call love.
Don't worry, he won't get far on foot | USA 2018 | Drama, Biography | Gus Van Sant | 12
A loving biopic from Gus Van Sant about the biting cartoonist and outsider John Callahan who became paralyzed from the neck down after a car accident when he was 21 and likes stepping on people's toes with his illustrations.
USA 2017 | , Fantasy, Drama | David Lowery | 12
A young couple. The Man, C., dies suddenly in a car crash. The woman, M., survives and is shaken. C. returns as a ghost with no one noticing and observes how the world keeps moving. A gentle, sad, and philosophical ghost film.
USA/Großbritannien/Australien 2016 | Drama | Garth Davis | 12
Little Saroo falls asleep in a freight car one night and lands in Calcutta 1600 kilometers away. Adult Saroo begins to search for his roots years after being adopted by an Australian family.
Mary Magdalene | Großbritannien 2018 | Bibelfilm, Historical Film, Drama | Garth Davis | 12
The opulently filmed biopic tells the story of Mary Magdalene as an emancipatory story.
USA 2021 | Crime Drama, Thriller | Guillermo del Toro
In del Toro's remake of the noir classic from 1947, Bradley Cooper plays prowler Carlisle who lands in a carnival as a temporary employee, quickly works his way up, and ultimately becomes a popular medium in high society.
A Nightmare On Elm Street | USA 2010 | Horror, Thriller | Samuel Bayer | 16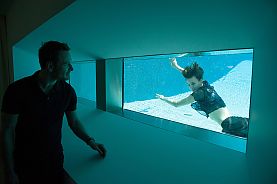 USA 2017 | Drama, Love Stories, Music Films | Terrence Malick | 6
Terrence Malick's most recent stream-of-consciousness feature is centered on a love triangle set against the Texan music scene that's above all about one thing: the human need for physical touch.
Großbritannien 2014 | Adventure, Drama, Thriller | Stephen Daldry | 12
Raphael, Gardo, and Rato live in a Favela on the edge of a garbage dump. One day they come across a mysterious wallet which the cops and their sadistic captain Frederico are also looking for. A fast-paced adventure based on a young adult novel by ...
Una | Großbritannien 2016 | Drama | Benedict Andrews | 12
15 years ago 13 year old Una and her 30 year old neighbor Ray had a type of relationship. Ray was convicted of abuse. He has built a new life for himself but Una is still asking herself what happened back then. She seeks Ray out.
ALLE ANGABEN OHNE GEWÄHR.
Die Inhalte dieser Webseite dürfen nicht gehandelt oder weitergegeben werden. Jede Vervielfältigung, Veröffentlichung oder andere Nutzung dieser Inhalte ist verboten, soweit CINEMATIC BERLIN nicht ausdrücklich schriftlich ihr Einverständnis erklärt hat.