Movie archive: 7 search hits
Interviews: no search hits
Movie archive
Captain Underpants: The first epic movie | USA 2017 | Action, Comedy, Children's Film | David Soren | oA
A US animated comedy.
USA 2018 | Action, Thriller, Crime Drama, Drama | Karyn Kusama | 12
Nicole Kidman's restrained but intense performance as down-and-out policewoman Erin Bell is the highlight of DESTROYER, which tells a typical noir revenge story.
Australien 2014 | Drama, Comedy, Love-story | Maya Forbes
INFINITELY POLAR BEAR realistically portrays a family who has to learn to deal with a father who is bipolar and who lost his job.
USA/Großbritannien 2019 | Comedy, Romance Films, Christmas Film | Paul Feig | oA
Kate works as an elf at an all-year-christmas-shop but has a more grinchy attitude. Hunky, insightful Tom is trying to change that. But there is something odd about him.
A Simple Favor | USA 2018 | Thriller, Mystery, Crime Drama | Paul Feig | 12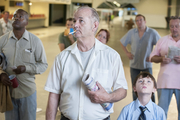 St. Vincent De Van Nuys | USA 2014 | Comedy | Theodore Melfi | 6
Bill Murray plays Vincent, a grumpy old wino and gambler, who starts to babysit a small boy because he desperately needs the money. Not Bill Murray's best film but boasting a terrific cast and some lovely set pieces.
ALLE ANGABEN OHNE GEWÄHR.
Die Inhalte dieser Webseite dürfen nicht gehandelt oder weitergegeben werden. Jede Vervielfältigung, Veröffentlichung oder andere Nutzung dieser Inhalte ist verboten, soweit CINEMATIC BERLIN nicht ausdrücklich schriftlich ihr Einverständnis erklärt hat.