Cinema listings: no search hits
Movie archive: 6 search hits
Interviews: no search hits
Movie archive
Richard Jewell | USA 2019 | Drama | Clint Eastwood | 12
Security guard Richard Jewell discovers a bomb in the 1996 Olympic Games in Atlanta and is celebrated at first, but is later grilled by the authorities and the media.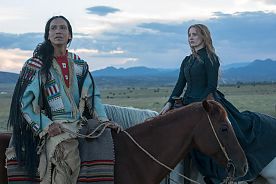 Woman Walks Ahead | USA 2018 | Biography, Drama, History | Susanna White | 12
In 1890 Catherine Weldon wants to paint the portrait of Lakota-Sioux-Chief Sitting Bull, just when the government is about to pass the infamous "General Allotment Acts" and the army contemplates revenge for their defeat at Little Big Horn.
USA 2019 | Youth Film, Comedy, Slapstick | Taika Waititi | 12
Ten-year-old Jojo discovers that his mother is hiding a Jewish girl. Not even his imaginary friend Hitler knows what to do. Taika Waititi's garish comedy offers jokes in volleys, but it also contains an emotionally moving story.
The Hitchhiker's Guide to the Galaxy | USA 2005 | Science Fiction, Comedy, Literary Film Adaptations | Garth Jennings | 6
Three Billboards Outside Ebbing, Missouri | USA 2017 | Crime Drama | Martin McDonagh | 12
In the fictional town of Ebbing, Mildred Hayes (Frances McDormand) posts sentences on three billboards meant to bring the resting investigation of her daugher's rape and murder back into motion.
Vice | USA 2018 | Biography, Drama, History | Adam McKay
Dick Cheney (Christian Bale) was the most powerful vice president in the history of the US. He instigated a war based on falsified evidence and reinstated torture, calling it "enhanced interrogation." Adam McKay turns Cheney's story into a ...
ALLE ANGABEN OHNE GEWÄHR.
Die Inhalte dieser Webseite dürfen nicht gehandelt oder weitergegeben werden. Jede Vervielfältigung, Veröffentlichung oder andere Nutzung dieser Inhalte ist verboten, soweit CINEMATIC BERLIN nicht ausdrücklich schriftlich ihr Einverständnis erklärt hat.