Cinema listings: no search hits
Movie archive: 13 search hits
Interviews: no search hits
Movie archive
USA 2015 | Drama, Fantasy, Horror | Guillermo del Toro | 16
Young author Edith Cushing marries Sir Thomas Sharpe. Edith tries to forget a terrible family tragedy in her new home but the house and the supernatural inhabitants aren't making it easy on her.
Miss Sloane | USA 2016 | Drama, Thriller | John Madden | 12
Bright Elizabeth Sloane (Jessica Chastain) works as a ruthless lobbyist in Washington. One day, to everybody's consternation, she switches sides and takes on the firearms lobby.
IT: Chapter 2 | USA 2019 | Horror, Thriller | Andy Muschietti | 16
27 years after the events of IT, the Loser's Club, who have gone their separate ways, comes together again - because the evil returns every 27 years.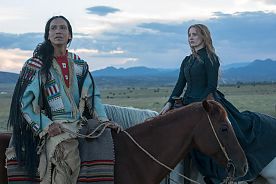 Woman Walks Ahead | USA 2018 | Biography, Drama, History | Susanna White | 12
In 1890 Catherine Weldon wants to paint the portrait of Lakota-Sioux-Chief Sitting Bull, just when the government is about to pass the infamous "General Allotment Acts" and the army contemplates revenge for their defeat at Little Big Horn.
USA 2014 | Adventure, Mystery, Science Fiction | Christopher Nolan | 12
A team of explorers travel through a wormhole in an attempt to ensure humanity's survival. One of those films that demands to be seen on the biggest possible screen with a powerful sound system.
The Martian | USA 2015 | Adventure, Action, Science Fiction | Ridley Scott | 12
Botanist Mark Watney survives a huge sandstorm in Mars and has to survive on the inhospitable planet on his own.
USA 2017 | Biography, Drama, Sportfilm | Aaron Sorkin | 12
After ending her skiing career, Molly Bloom causes quite a stir in Hollywood as an underground poker queen until she runs into trouble with the Russian mafia and the FBI.
USA 2014 | Action, Drama, Crime Drama | J. C. Chandor | 12
J. C. Chandor (MARGIN CALL, ALL IS LOST) delivers another portrait of a lonesome upright hero. New York 1981. Abel Morales' "Standard Heating Co." is under pressure from competitors and the police. Morales desperately tries to defend his ...
Take Shelter | USA 2011 | Drama, Thriller | Jeff Nichols | 12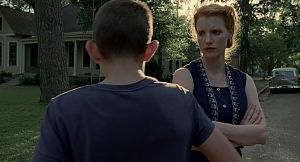 The Tree of Life | USA 2011 | Drama | Terrence Malick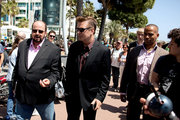 Seduced and Abandoned | USA 2013 | Documentary | James Toback | 12
Actor Alec Baldwin and director James Toback go to Cannes to look for rich people to finance their film idea "The last tango in Tikrit, which is inspired by Bernardo Bertolucci's infamous LAST TANGO IN PARIS.
The Disappearance of Eleanor Rigby: Them | USA 2014 | Drama | Ned Benson | 6
The story of a couple trying to reclaim the life and love they once knew and pick up the pieces of the past.
USA 2018 | Action, Comic book movie, Fantasy | Simon Kinberg | 12
ALLE ANGABEN OHNE GEWÄHR.
Die Inhalte dieser Webseite dürfen nicht gehandelt oder weitergegeben werden. Jede Vervielfältigung, Veröffentlichung oder andere Nutzung dieser Inhalte ist verboten, soweit CINEMATIC BERLIN nicht ausdrücklich schriftlich ihr Einverständnis erklärt hat.