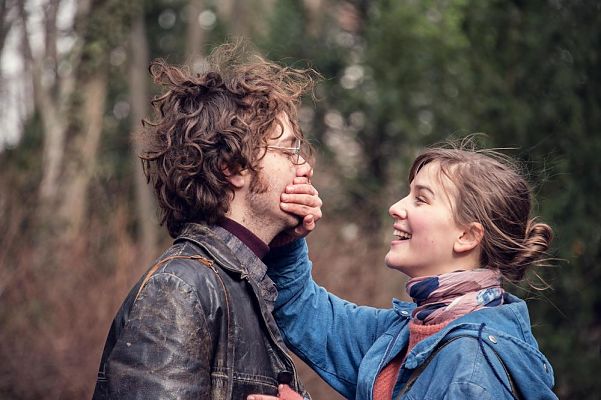 Zwischen uns die Mauer
An East-West teen love story set shortly before the fall of the Berlin Wall.
There are at least three films opening in time for the 30th anniversary of the fall of the Wall that show different experiences of the German division and its end. The animated children's film FRITZI - EINE WENDEWUNDERGESCHICHTE, the family drama IM NIEMANDSLAND that revolves around dispossession, and the German-German teen love story ZWISCHEN UNS DIE MAUER is coming to theatres in October. I am from the West, but I am old enough to have known the Wall and be involved in a German-German teen love story, even if it was just as a West-East messenger. But of course I also had a bit of a crush on Gabi from Prenzlauer Berg, even though everything was so strange in the East, the fashion, the restaurants, the youth clubs with the white tablecloths, and the music from 10 years ago. The adaptation of the autobiographical novel by Katja Hildebrand ZWISCHEN UNS DIE MAUER doesn't do much to make us trust its historical accuracy. Sure, the shop windows in the Eastern shops look different than in the West, but the things a group of teens (West) here in Berlin (Capital of the GDR) marvel at is a bit too bizarre: canned fish, pilsner called "pilsner," and then, high up on the pedestal of course, the most senstational product: a carrot and a celery root. What's worst is the invention of a young wall casualty in 1986 who seems so noble and good, that the historical swindle is immediately suspicious. She loves to read books in parson's library, while there's only Marx and Engels at her parents, and she decides to flee due to intellectual boredom. There's Stasi torture for Western teens, as if the terror against real Eastern teens weren't enough, the parties in the East look exactly like the parties in the West, but we used to be such strangers. The laxness history is dealt with here makes even the true love story unbelievable.
Translation: Elinor Lewy
Screenings
OV

Original version

OmU

Original with German subtitles

OmeU

Original with English subtitles
ALLE ANGABEN OHNE GEWÄHR.
Die Inhalte dieser Webseite dürfen nicht gehandelt oder weitergegeben werden. Jede Vervielfältigung, Veröffentlichung oder andere Nutzung dieser Inhalte ist verboten, soweit CINEMATIC BERLIN nicht ausdrücklich schriftlich ihr Einverständnis erklärt hat.