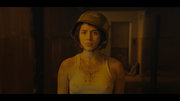 We are the Flesh
Mariano distills booze from organic material and drums. A brother and sister discover his solitary world and he begins to play a game with them. The stakes are flesh, incest, sex, blood, and death.
Writer/director Emiliano Rocha Minter's debut feature, WE ARE THE FLESH, is a frenzied exploration of the obscure cavities of the mind and body, urging its protagonists (and its viewers) to bring to the surface that which has been trained into concealment.
While reminiscent of such iconic pieces as SALO, "The Story of The Eye," and FLAMING CREATURES, Minter's vision remains emphatically unique. The film is set in an urban wasteland, with nothing left to offer its voluntarily sequestered protagonists. Two teenage siblings seek refuge in an abandoned building, whose sole inhabitant and self-appointed demiurge is a middle-aged man with an enigmatic master plan. After testing the teens' recklessness and trust, he recruits them to help him carry out his vision in exchange for permission to stay there. He outfits them in otherworldly uniforms and they set about transforming the space into an extraterrestrial, cavernous labyrinth, in which the three also undertake the task of disabusing themselves of their worldly values, morals, and self-imposed constraints. What would otherwise be presented as the stuff of horror—be it psychological or physiological—is depicted with such an ambivalent and interweaving mixture of celebration and desperation that the viewer's moral compass falls into tumult. The narrative, much like the camerawork, takes the viewer for a disorienting and intoxicating ride, rife with images that will linger for weeks after viewing. The film premiered to high acclaim at the Rotterdam International Film Festival and first graced German screens at the Fantasy Film Festival, attesting to its bold appeal to both arthouse and horror audiences. WE ARE THE FLESH is bound to polarize audiences, to leave viewers in a post-apocalyptic haze of lawlessness, possibility, and perhaps nausea. As the credits come to a close and viewers regain their terrestrial footing, they will likely deem the film either an abomination or a masterpiece, but most would be hard-pressed to deny that Minter, only 26, is an exciting and provocative new voice in Mexican cinema.
ALLE ANGABEN OHNE GEWÄHR.
Die Inhalte dieser Webseite dürfen nicht gehandelt oder weitergegeben werden. Jede Vervielfältigung, Veröffentlichung oder andere Nutzung dieser Inhalte ist verboten, soweit CINEMATIC BERLIN nicht ausdrücklich schriftlich ihr Einverständnis erklärt hat.