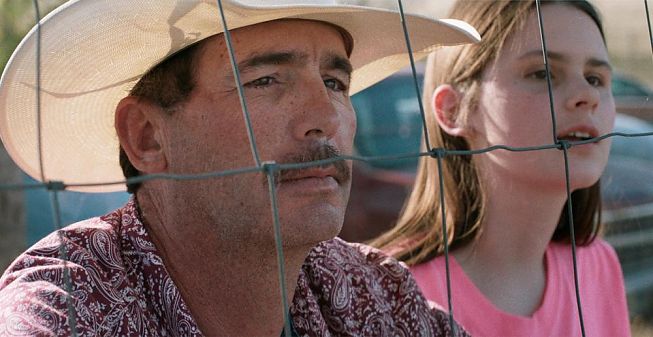 The Rider
Lakota cowboy Brady isn't actually allowed to ride anymore after a head injury which he got while doing rodeo, but there's no other life for him. In Chloe Zhao's moving and enchanting film, Brady and his family play a fictional version of ...
Chloé Zhaos THE RIDER is perfect cinema magic. More beautiful lighting than what her cinematographer Joshua James Richards has created has been seen in the cinema since Nestor Almendros' work for Terence Malick in DAYS OF HEAVEN, which was obviously an inspiration for Zhao's film, and I haven't seen a more moving story in cinema this year.

Chloé Zhao shot her last film, SONGS MY BROTHER TAUGHT ME, in the Badlands of Pine Ridge reservation in South Dakota. She met young rodeo cowboy Brady Jandreau while there and she desperately wanted to make him the protagonist of her next film. Then Brady injured himself badly during a rodeo when a bronco threw him up and he was hit in the head by the hoof. THE RIDER was made during Brady's healing process, the Lakota cowboy and his family play a fictional version of their own story. A lot is very real in THE RIDER: the gentle dialogue between Brady and his mentally handicapped sister, breath-taking scenes in which Brady breaks in a wild horse. Brady isn't supposed to be riding anymore, there's a steel plate in his head and he has seizures that cause nausea and muscle cramps. Brady can't live without riding though, even though he sees how it could've been much worse with what happened to his (real) friend, the former bull rider Lane.

THE RIDER shows the male world of the Lakota cowboys from Pine Ridge where you begin with the dangerous sport as a teen and keep doing it for as long as your body can bear the strain. Those who leave have people's pity in the best case: "I've seen enough guys who were scared to ride a horse and became farmers," a buddy warns Brady who has to get a job: labeling products in the supermarket. Work is unbearable, especially in comparison to the stirring exterior shots that Zhao and Richards conjure up on screen. You can almost smell the herbs and the dust of the Badlands, feel the wind, and when Brady rides along the prairie, he seems weightless.

The story of a young man who lives in a world with only one livable dream which he can't live out is an existential tragedy that arises from the living conditions in the Pine Ridge reservation, but refers to universal experiences, and not just emotional ones. Chloé Zhao does a wonderful job with her non-professional actors who are sometimes are obviously acting, which underscores the truth of their words and actions even more. THE RIDER is cinema verité in the original sense: cinema that creates poetic truth.
Translation: Elinor Lewy
ALLE ANGABEN OHNE GEWÄHR.
Die Inhalte dieser Webseite dürfen nicht gehandelt oder weitergegeben werden. Jede Vervielfältigung, Veröffentlichung oder andere Nutzung dieser Inhalte ist verboten, soweit CINEMATIC BERLIN nicht ausdrücklich schriftlich ihr Einverständnis erklärt hat.