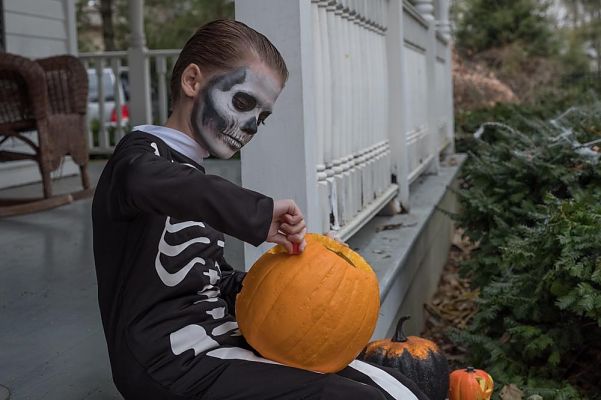 The Prodigy
When Sarah and John are told that their son Miles is possessed by a demonic spirit, they try not to believe it.
Sarah and John Blume gaze at their newborn son Miles and see perfection. Within months Miles surprises the Blumes with signs of being intellectually gifted. But at 8 years old, he's exhibiting a dark personality and behavioral peculiarities.

Miles's concerned parents take him to a therapist, who sends them to supernatural pundit Arthur Jacobson, played by Colm Feore. Jacobson explains with the earnestness of a medical professional, that Miles is possessed by a demonic spirit. The specialist's somber brown cardigan fails to temper the madness of what he says. Fortunately Miles's subsequent behavior makes Jacobson's diagnosis an easy sell. The Blumes are soon after tasked with preventing the entity from taking up permanent residence in Miles's body.

Jackson Robert Scott (Miles) exudes a penetrating eeriness. Taylor Schilling (Sarah) realistically shows the internal discord of a mother who is both terrified of her son and fiercely nurturing toward him.

Sarah's importance as a character is a trait of Nicholas McCarthy films, which often feature a central female character. McCarthy said in a 2014 interview that he'd always been drawn to female characters in horror films, citing Mia Farrow's role in Rosemary's Baby and that of Ellen Burstyn in The Exorcist as examples, and that this interest influences his work.

McCarthy, who claims to enjoy frightening audiences, doesn't disappoint when it comes to those heart-suddenly-in-your-throat scares. In between those moments is a persistent inkling that something is wrong or will go wrong. I noticed that feeling lingered a while, along with budding hope for a sequel.
Screenings
OV

Original version

OmU

Original with German subtitles

OmeU

Original with English subtitles
ALLE ANGABEN OHNE GEWÄHR.
Die Inhalte dieser Webseite dürfen nicht gehandelt oder weitergegeben werden. Jede Vervielfältigung, Veröffentlichung oder andere Nutzung dieser Inhalte ist verboten, soweit CINEMATIC BERLIN nicht ausdrücklich schriftlich ihr Einverständnis erklärt hat.