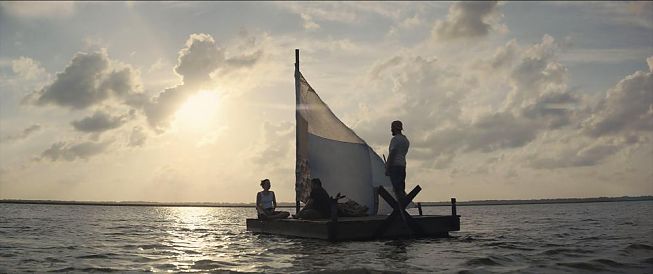 The Peanut Butter Falcon
Two men on the lam: 22 year old Zak with Down syndrome and outsider Tyler sail towards Florida on a raft and become friends.
Zak's (Zackary Gottsagen) first escape attempt costs him a pudding and takes him just a bit outside the senior home that he lives in. The 22-year-old with Down syndrome doesn't fit in there, but no one has a better idea. For his second escape attempt he doesn't have to bribe anyone and runs free in nothing but his white underwear and soaped up body until he falls asleep on a boat. It belongs to Tyler (Shia LaBeouf) and he is also on the run from his past and vengeful fishermen. He can't use any dead weight as a lone wolf and he wants to get rid of the stowaway as soon as possible, but he isn't heartless. Zak wants to go to Florida and wants to learn how to wrestle from his favorite wrestler Salt Water Redneck and Florida is also on Tyler's way. They sail away down a river with not a lot of belongings, a lot of dreams, and a jar of peanut butter. Tyler knows how to fight and he teaches Zak and they talk about their family and the difference between a good and bad heart. But the fishermen are still chasing him and so is caretaker Eleanor (Dakota Johnson), who is meant to bring Zak back to the home which is hard for her to do once she sees him in his new free state.

The feature-length debut of Michael Schwartz and Tyler Nilson is a skillful, funny story in which lost family bonds, hopelessness, and impending violence are overcome and friendships are made without there even being a trace of cynicism or kitsch. The main role was specially written for Zackary Gottsagen and he drives the film with his naive and honest enthusiasm, delivering a performance on par with the other actors. He needs some help as the character, but never pity. Idyllic nature images and folk music round out the entertaining journey a la Mark Twain.
Christian Klose (INDIEKINO MAGAZIN)
Translation: Elinor Lewy
USA 2019, 93 min
Language: English
Genre: Roadmovie, Comedy, Sportfilm
Director: Tyler Nilson, Michael Schwartz
Author: Tyler Nilson, Michael Schwartz
DOP: Nigel Bluck
Music: Zachary Dawes, Noam Pikelny, Jonathan Sadoff, Gabe Witcher
Distributor: Tobis Film
Cast: Zack Gottsagen, Shia LaBeouf, Dakota Johnson, John Hawkes, Thomas Haden Church, Jon Bernthal, Bruce Dern
FSK: 12
Release: 19.12.2019

Website
ALLE ANGABEN OHNE GEWÄHR.
Die Inhalte dieser Webseite dürfen nicht gehandelt oder weitergegeben werden. Jede Vervielfältigung, Veröffentlichung oder andere Nutzung dieser Inhalte ist verboten, soweit CINEMATIC BERLIN nicht ausdrücklich schriftlich ihr Einverständnis erklärt hat.