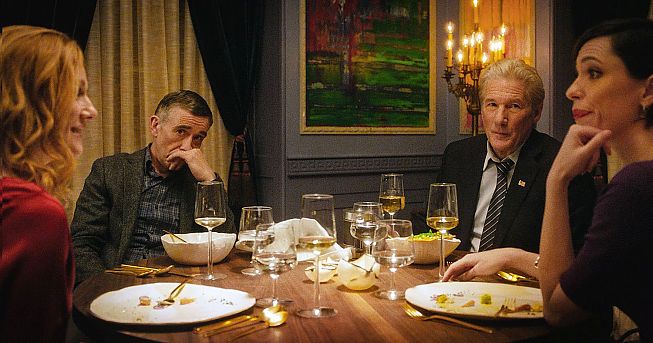 The Dinner
Two couples – played by Steve Coogan, Laura Linney, Richard Gere, and Rebecca Hall – meet for a luxurious 7 course menu. In reality, the dinner is an emergency meeting: their sons attacked a defenseless homeless woman.
The sophisticated psychodrama takes place over one night. Witty misanthrope Paul Lohman (a scintillating Steve Coogan) and his conciliatory wife Katelyn (Rebecca Hall) meet Paul's brother Stan (Richard Gere), a congressman on his way to becoming a governor, and his wife Claire (Laura Linney) for a luxurious 7 course menu. While Paul doesn't feel like being among "hominids" and refuses to drink such expensive champagne, Stan and his entourage arrive and organize the 15 yes votes he needs in order to get his bill passed while they have dinner. The two women mediate, appease, and keep up appearances, at least in the beginning. The dinner is really an emergency meeting: both of the Lohman sons attacked a defenseless homeless woman. Only the parents know what they have done and now they have to decide on how they want to deal with that knowledge.

There are smartly interlaced flashback scenes throughout the seven course menu and the genesis of this free-flowing aggression among the four adults gradually becomes clear. Paul's mental breakdown is out on the table as well as Katelyn's cancer and Stan's commitment issues, his adopted kids from his first wife, and scenes from Paul and Stan's childhood…

That's a lot for one film and it gets to be a bit heavy-handed after a rousing start. THE DINNER also manages to add a political-historical dimension. The fates of the protagonists mirror the history and the present of the US. More precisely: the violence of the country's formation follows the descendants of the pioneers to this day, like Paul Lohman, the neurotic history teacher with a Gettysburg obsession.
Hendrike Bake (INDIEKINO MAGAZIN)
Translation: Elinor Lewy
ALLE ANGABEN OHNE GEWÄHR.
Die Inhalte dieser Webseite dürfen nicht gehandelt oder weitergegeben werden. Jede Vervielfältigung, Veröffentlichung oder andere Nutzung dieser Inhalte ist verboten, soweit CINEMATIC BERLIN nicht ausdrücklich schriftlich ihr Einverständnis erklärt hat.