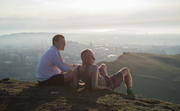 T2 Trainspotting
What can you expect out of T2: TRAINSPOTTING? Quite a lot actually, with Danny Boyle as the director, Irvine Welsh as the author of the novel "Porno," John Hodge as the screenwriter, as well as Ewan McGregor, Ewen Bremner, Jonny Lee Miller, and Robert Carlyle in the main roles. Danny Boyle hasn't made a single bad film since his breakthrough with TRAINSPOTTING and he didn't start doing it with his passion project.

The sequel does have less energy which is how these things often go. The original was made in 1996 in the midst of the "Cool Britannia" era. Boyle, McGregor, and the others were wild and wanted to achieve something. T1 is fittingly quick and rousing with an irresistible drive. Things are different in T2; the characters are in their mid-forties now and their failures are behind them.

When "rent boy" returns to his Scottish hometown Edinburgh after 20 years in Amsterdam, his marriage has ended and he has lost his job. His best friend "sick boy" runs a failing bar and blackmails the johns of his Bulgarian girlfriend Veronika (Anjela Medyalkova) with secretly shot sex tapes. "Spud" is the only one still addicted to the needle and wants to end his life. Aggressive "Franco" breaks out of prison and wants to seek revenge on rent, who betrayed him for 16,000 pounds (with only Spud getting his share). The betrayal from back then dictates the sequel. Sick boy gets rent to help him open a brothel but is secretly planning on getting back at the snitch double as hard.

T2: TRAINSPOTTING's tone is mostly nostalgic since not much is left from the zeitgeist. The mentions of facebook, twitter, and snapchat feel more forced than the "choose life" tirades from the original. The difference is that T1 really did spring out of the zeitgeist, which T2 only wants to imitate.

The film isn't as energetic as the original, but it's still worth seeing. Boyle uses nifty color accents, works with freeze frames, and the film has a quick editing pace. His regular camera man Anthony Dod Mantle (RUSH) films from unusual angles which is another reason T2 is interesting. There's a timeless soundtrack with Lou Reed and Iggy Pop this time around too, which Boyle uses to make several references to the original. T2 is definitely not a bad film, though it won't have the cult status the original has. But honestly: what could Danny Boyle have done differently?
Christian Horn (INDIEKINO MAGAZIN)
Translation: Elinor Lewy
Screenings
OV

Original version

OmU

Original with German subtitles

OmeU

Original with English subtitles
ALLE ANGABEN OHNE GEWÄHR.
Die Inhalte dieser Webseite dürfen nicht gehandelt oder weitergegeben werden. Jede Vervielfältigung, Veröffentlichung oder andere Nutzung dieser Inhalte ist verboten, soweit CINEMATIC BERLIN nicht ausdrücklich schriftlich ihr Einverständnis erklärt hat.