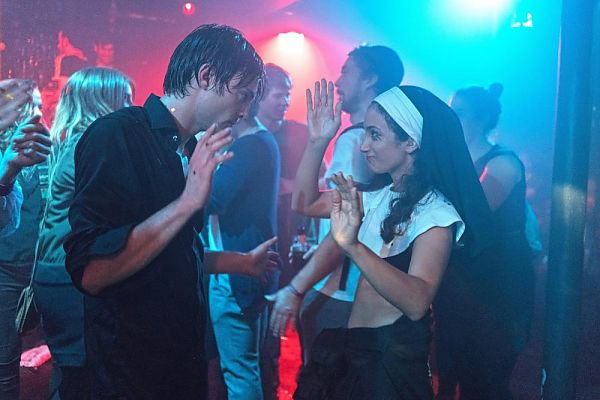 So was von da
It's New Year's Eve and Oskar has to close his music club on the Reeperbahn. Everyone is there and goes wild one last time on the very last club night.
In 2011 author, music journalist, and club owner ("Übel & Gefährlich) Tino Hanekamp published the charming and very successful Hamburg novel "So was von da." Oskar's club project has failed, he has to close it. On the last night, which happens to be New Year's Eve, everything comes together, the celebration and despair, best friends and the wild night creatures, and the neighborhood thug who threatens to break Oskar's fingers if he doesn't get a hold of 10 million. Ever since 2011 Jakob Lass, who claims to have reinvented improvisational cinema and discovered the wonderful Franz Rogowski, has made films thatcombine fictional, improvised stories with real everyday locations and real everyday people. Lass has adapted Hanekamp's novel and has brought the characters in the book to real party locations with real party people in a real Hamburg club. It sounds like a great idea on paper. In reality it's ended up being a very uneven film. Every now and then there are moments that work, the real party that's quite thrilling, the scenes away from the plot when the actors – Niklas Bruhn, Martina Schöne-Radunski, David Schlütter, Bela B., and Corinna Harfouch – come together, but interlacing the events often brings the real party and the fictional plot to a dead halt. Viewers get into a party flow and the next chapter subheading appears right afterwards. And vice versa. The ecstasy becomes an obstacle to Lass' free-flowing directing concept and is reminiscent of other party and escalation films like SPRING BREAKERS or the pure destruction of Laurel & Hardy that works so well because it's brilliantly written and staged.
Hendrike Bake (INDIEKINO MAGAZIN)
Translation: Elinor Lewy
ALLE ANGABEN OHNE GEWÄHR.
Die Inhalte dieser Webseite dürfen nicht gehandelt oder weitergegeben werden. Jede Vervielfältigung, Veröffentlichung oder andere Nutzung dieser Inhalte ist verboten, soweit CINEMATIC BERLIN nicht ausdrücklich schriftlich ihr Einverständnis erklärt hat.