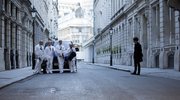 Remainder
Tom gets hit on the head by an object that fell from the sky. After being released from the hospital, he receives 8.5 million pounds as compensation and uses the money to recreate the visions in his head. Everything has to be in place: cats on the ...
Omer Fast's first feature-length film REMAINDER is a mindfuck thriller reminiscent of David Lynch's films and the cool, nervous paranoid tendencies found in David Cronenberg's (COSMOPOLIS) later work. The adaptation of the Tom McCarthy novel begins with Tom (Tom Sturridge) getting hit on the head by an object from the ceiling of a shopping arcade. After a coma, waking up, and rehab he gets a lot of compensation money: 8.5 million pounds to be exact. He feels alienated from his friends and keeps having disturbing visions. He decides to recreate the scenes he has in his head. With the help of "fixer" Naz (Arsher Ali) Tom finds the house that he's looking for, buys it, throws the tenants out, and begins recreating his visions with Naz's help. There needs to be an exact number of cats on the roof next door, the smell of fried liver from downstairs, Bach playing on the piano, and an unfriendly old woman taking out the trash at exactly the right moment. But two cops keep turning up who are obviously following Tom and get increasingly more invasive and brutal. Tom's recreations keep getting more violent until he ends up at the same place in the same arcade at the end of the film. An intense film that offers more puzzles than solutions and questions the relation between memory and trauma, fantasy and art as well as the relation between art, capital, and gentrification. Above all it is supremely fun to follow REMAINDER's absurd turns and to speculate on what could have actually happened. The puzzle can only partially be solved. The unclear parts will always remain.
Translation: Elinor Lewy
Screenings
OV

Original version

OmU

Original with German subtitles

OmeU

Original with English subtitles
ALLE ANGABEN OHNE GEWÄHR.
Die Inhalte dieser Webseite dürfen nicht gehandelt oder weitergegeben werden. Jede Vervielfältigung, Veröffentlichung oder andere Nutzung dieser Inhalte ist verboten, soweit CINEMATIC BERLIN nicht ausdrücklich schriftlich ihr Einverständnis erklärt hat.