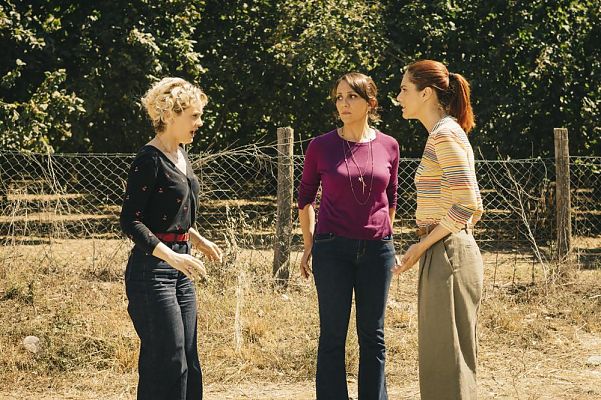 Metti la nonna in freezer
Italian black comedy that manages a mostly sunny outlook.
NONNA MIA starts out with a phantasmagoric tracking shot that approaches a freezer, then passes through its ventilation system before slowly passing by the frozen landscape within. Coupled with the creepy, echoing sounds of the fan blades and distant music, it's evocative of Jeunet/Caro films such as DELICATESSEN, pairing well with the film's original Italian title: Metti la Nonna in Freezer. The titular Nonna lifts the freezer door, places a bag of tortellini inside, and closes it again, and the film is underway.

We're soon introduced to the film's male and female leads: Simone, a vigilant but ultimately hapless tax officer who stages increasingly elaborate raids (involving an increasingly ridiculous series of costumes) to snag tax frauds, and Claudia, an art restorer whose business is hemorrhaging money as she waits on an increasingly overdue payment from the government. Claudia's beloved grandmother, in failing health, gives her granddaughter her monthly pension to keep the business afloat.

The film makes short work of setting these domino-like pieces in place, then gets quickly to the task of knocking them down. Fortunately, the directors and cast (particularly the vibrant Miriam Leone as Claudia) throw themselves joyfully into the task, fleshing the commedia dell'arte that follows with enough energy to keep it fresh, and enough restraint to keep it from wearing thin.

The cartoonish tone of the intro holds throughout, with plenty of slapstick gags, eye-popping colors, and awkward shots from behind ears and over shoulders. The Jeunet/Caro influence remains as well, but the bulk of the film is more AMELIE than DELICATESSEN, and while it shares the former film's energy and inventiveness, it also shares its slightly lackluster third act, where the darker and stranger moments become fewer and the overall arc bends toward a more standard romance. Still, it's refreshing to see a comedy that embraces the ridiculousness of its plot while respecting its characters enough to let them grow and evolve.
Screenings
OV

Original version

OmU

Original with German subtitles

OmeU

Original with English subtitles
ALLE ANGABEN OHNE GEWÄHR.
Die Inhalte dieser Webseite dürfen nicht gehandelt oder weitergegeben werden. Jede Vervielfältigung, Veröffentlichung oder andere Nutzung dieser Inhalte ist verboten, soweit CINEMATIC BERLIN nicht ausdrücklich schriftlich ihr Einverständnis erklärt hat.