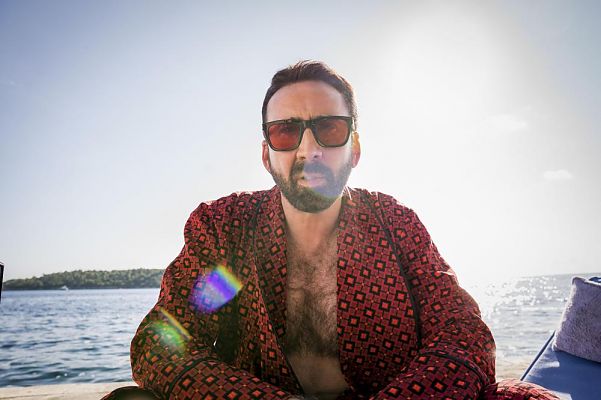 The Unbearable Weight Of Massive Talent
Nicolas Cage plays Nick Cage, a washed-up actor who wants to end his career. Before that, he takes on one more lucrative entertainment job – which involves the drug mafia and the CIA.
Nicolas Cage has proved that he talent in his performance as a depressed alcoholic in Mike Figgis' melancholy masterpiece LEAVING LAS VEGAS. A role which won him the Oscar and the crowning achievement of a decade in which everything seemed possible for the nephew of Francis Ford Coppola. But the 90s are long gone and in recent years his leading roles in blockbusters like THE ROCK and CON AIR seem like they're from a different era. And so Cage – with the exception of Michael Sarnoski's PIG, where he could once again show what he can really do – was mostly seen in direct-to-DVD titles. He was more talked about for being a living meme than for his acting. He is clearly very aware of this. After all, he did agree to play himself in the second feature of Tom Gormican, who made the lukewarm romcom THAT AWKWARD MOMENT eight years ago. Or at least a variation of himself, because his character Nick Cage is a washed up actor who wants to end his career. Before that, he takes one more lucrative job: he is meant to entertain the guests of a party thrown by influential Javi Gutierrez (Pedro Pascal). The businessman is a Cage fan and a luxury villa in Mallorca with free drinks sounds appealing. When he arrives, Nick is confronted with the CIA who explain that Gutierrez is an influential drug lord and they want to plant him as an agent. However, Javi and Nick get along very well and even plan to make a film together. MASSIVE TALENT draws its appeal from absurd situations, Cage's self-irony and Pascal's playfulness. The plot is expendable and the film is primarily worth watching for Cage fans thanks to its many references.
Lars Tunçay (INDIEKINO MAGAZIN)
Translation: Elinor Lewy
Screenings
OV

Original version

OmU

Original with German subtitles

OmeU

Original with English subtitles
Keine Programmdaten vorhanden.
ALLE ANGABEN OHNE GEWÄHR.
Die Inhalte dieser Webseite dürfen nicht gehandelt oder weitergegeben werden. Jede Vervielfältigung, Veröffentlichung oder andere Nutzung dieser Inhalte ist verboten, soweit CINEMATIC BERLIN nicht ausdrücklich schriftlich ihr Einverständnis erklärt hat.