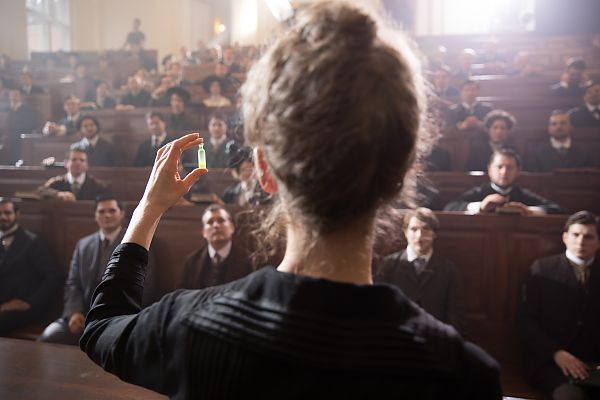 Radioactive
Marjane Satrapi's colorful graphic novel adaptation is about Marie Curie and travels across the world of radioactivity from the discovery of radioactive radiation through to cancer therapy to Chernobyl and Hiroshima.
Few women have written history in the way that two-time Nobel Prize winner Marie Curie has. Her unfaltering will is at the center of Marjane Satrapi's (PETROPOLIS) newest graphic novel adaptation RADIOACTIVE, which takes its title from the journey it takes across the world of radioactivity: from the discovery of radioactive radiation over to cancer therapy and x-rays to Chernobyl and Hiroshima. All of this historical impact is shown in excerpts, while the actual narrative focuses on Marie Curie's life in detail. The colorful playfulness of the very serious, dedicated Curie that is portrayed in the graphic novel "Radioactive: Marie & Pierre Curie: A Tale of Love and Fallout" by Lauren Redness seems a bit out of place on screen. The interplay between Rosamund Pike and Sam Riley as Marie and Pierre Curie is, however, moving and unifies the seemingly irreconciable: the psychedelic colorful world of chemistry with the prim academic world. The feminist biopic only really gathers steam when the men fall into the background and Curie isn't seen as the wife or mistress anymore but rather as a person who succeeded in a huge scientific breakthrough that still affects us to this day. It's worthwhile to be patient, also in order to acknowledge the lesser known scientific achievements of her daughter Irene Joliot-Curie. RADIOACTIVE is surprising in its colorfulness, but that's not always because of its comic-like exaggeration: the image of Curie sleeping in bed with highly poisonous uranium isn't a bright fantasy, it's a historical fact. Satrapi convincingly transmits how different the world would be without the contributions of women. What's more current than ever is the question of whether we deserve to know the natural resources of our planet.
Anna Hantelmann (INDIEKINO MAGAZIN)
Translation: Elinor Lewy
Screenings
OV

Original version

OmU

Original with German subtitles

OmeU

Original with English subtitles
ALLE ANGABEN OHNE GEWÄHR.
Die Inhalte dieser Webseite dürfen nicht gehandelt oder weitergegeben werden. Jede Vervielfältigung, Veröffentlichung oder andere Nutzung dieser Inhalte ist verboten, soweit CINEMATIC BERLIN nicht ausdrücklich schriftlich ihr Einverständnis erklärt hat.