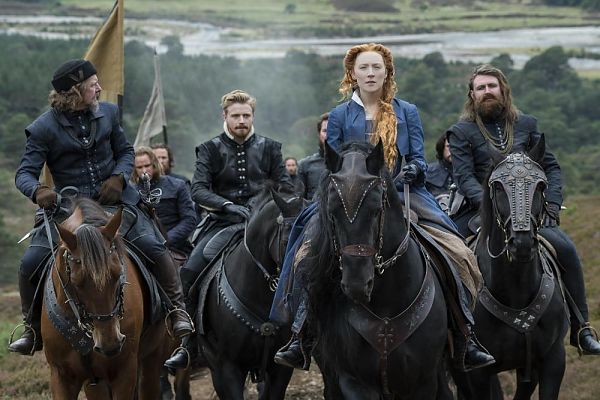 Mary Queen of Scots
Mary Stuart returned to Scotland from France, quelled a Protestant rebellion, and was ultimately defeated due to intrigues. An attempt at a new feminist interpretation.
Josie Rourke, the director of the internationally renowned West End Theater "Donmar Warehouse" in London, and Beau Willimon, the showrunner of the US version of "House of Cards," have made a feminist reinterpretation of the story of Mary Stuart. Mary (Saoirse Ronan) and Elizabeth (Margot Robbie) are two ambitious sisters in spirit surrounded by power-hungry, dumb, and fanatical men that lead them to their downfall. Maybe it's the spirit of the theater that can be a bit alienating or maybe it's the spirit of diversity, but there are numerous people of color in the supporting cast, mostly playing nameless messengers, chambermaids, and housekeepers. It's surely well-meaning, but it does make the palaces of Hollyrood and Whitehall seem like a Southern plantation with happy house slaves. Saoirse Ronan and Margot Robbie do what they can to be precise and present, but even they can't distract from the film's sensationalism which makes Mary's execution at the beginning of the film seem like a fashion show. Four maids rip Mary's black penitential robe on command and reveal a bright red robe in front of the executioner. The screenplay by Willimon, who is very experienced in intrigues, speeds along and focuses on the main scandal: who killed Mary Stuart's "private secretary," the bisexual Italian musican David Rizzio, and her husband and cousin Henry Stuart, Lord Darnley? The scandal led to Mary's abdication from the Scottish throne and to her escape to England. MARY, QUEEN OF SCOTS attempts to be a thrilling revaluation of a historical figure, but the TV-theater collaboration isn't quite a success.
Translation: Elinor Lewy
Screenings
OV

Original version

OmU

Original with German subtitles

OmeU

Original with English subtitles
ALLE ANGABEN OHNE GEWÄHR.
Die Inhalte dieser Webseite dürfen nicht gehandelt oder weitergegeben werden. Jede Vervielfältigung, Veröffentlichung oder andere Nutzung dieser Inhalte ist verboten, soweit CINEMATIC BERLIN nicht ausdrücklich schriftlich ihr Einverständnis erklärt hat.