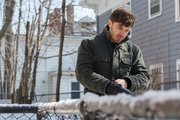 Manchester By The Sea
One morning withdrawn Lee, who works as a janitor in Quincy, finds out his brother Jo died from a heart attack. Lee goes back to the coastal town of Manchester-by-the-Sea, a place that connects him with his traumatic past.
Not many people know Kenneth Lonergan in Germany yet, but that will change with MANCHESTER BY THE SEA. Lonergan, who is a playwright, began his film career by writing the screenplay for ANALYZE THIS (1999). He directed his first film YOU CAN COUNT ON ME (2000) shortly after and won an Oscar for his collaboration on the GANGS OF NEW YORK screenplay in 2001. Mammoth project MARGARET (2011) followed, a gigantic financial flop which took 6 years to make and had 4 different edits and screened in just a few cinemas in New York and London, and now there's MANCHESTER BY THE SEA.

Lonergan's films and plays are a genre of their own, situated somewhere between melodrama and mumblecore. They deal with big, melodramatic, heartrending fates in the most calm way imaginable. Lonergan is interested in how life goes on after the disaster. What's important isn't what caused the trauma but how it impacts every minute of every day. That's why there aren't a lot of shock moments in his films. His directing debut YOU CAN COUNT ON ME is about two siblings who lost their parents in a car accident. The traumatic event occurs at the beginning of the film and only lasts 2 minutes. Years later, when the children are adults, Terry visits his sister Samantha and her sun Rudi in their hometown. Lonergan portrays how the three interact in detail. It doesn't go badly but there are uneasy moments filled with insecurity and unnecessary seeming harshness. In MARGARET 16 year old Lisa is a witness to an accident that she was partially to blame for. The daughter of an actress was an volatile teenager before the accident and comes completely undone after as she makes the doomed attempt to undo the events. Lonergan watches her do so for three messy, brilliant hours. There is no salvation in the end, just the certainty that everyone will go on living like they did before: rashly, stubbornly, and without pause.

Like YOU CAN COUNT ON ME, MANCHESTER BY THE SEA deals with returning to an emotionally contaminated small town. While YOU CAN COUNT ON ME and MARGARET begin with the first trauma which casts a shadow on the characters, MANCHESTER BY THE SEA only shows the shadow for a large portion of the film. Lee Chandler is a caretaker of an apartment building in Quincy. Lee is a dependable worker but is so distant and taciturn that the tenants keep complaining about him. Even the threat of getting fired doesn't shake him. Casey Affleck gives an Oscar-worthy performance as Lee, a withdrawn working-class man who is unshakeable: not because he is too shy or too cool, but because he just doesn't care unless someone gets too close to him, in which case he can explode. One morning Lee gets the news that his brother Jo died of a heart attack and Lee returns to Manchester-by-the-Sea, a place that makes him act more awkwardly than he already does. Whatever it is that plagues him, this is where it happened.

MANCHESTER BY THE SEA is incredibly sad and simultaneously comforting. Lonergan's characters have dealt with extraordinarily blows. Their tragedies don't interest Lonergan as much as the way in which these experiences, and all other experiences, affect their way of living, loving, decision making, and relationship building. He focuses on living on. The right path, the possible path, is constantly in flux and different for each individual at any given time.
Hendrike Bake (INDIEKINO MAGAZIN)
Translation: Elinor Lewy
Screenings
OV

Original version

OmU

Original with German subtitles

OmeU

Original with English subtitles
ALLE ANGABEN OHNE GEWÄHR.
Die Inhalte dieser Webseite dürfen nicht gehandelt oder weitergegeben werden. Jede Vervielfältigung, Veröffentlichung oder andere Nutzung dieser Inhalte ist verboten, soweit CINEMATIC BERLIN nicht ausdrücklich schriftlich ihr Einverständnis erklärt hat.