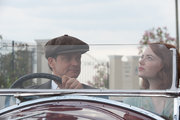 Magic in the Moonlight
Stanley (Colin Firth), a renowned magician, and Sophie (Emma Stone) a young American spiritualist meet at Côte d'Azur in the late 1920s. Stanley is convinced that he can unmask Sophie as a fraud, but instead succumbs to her own brand of magic.
A Woody Allen is a Woody Allen is a Woody Allen. Every Woody Allen film has good actors, sharp dialogue, a confident production design, relationship confusions and, as always, the God question. The mood changes often, sometimes romantic, sometimes childish, and then wickedly nihilistic as in his earlier "European" films such as VICKY CRISTINA BARCELONA, MATCH POINT or CASSANDRA'S DREAM. Since his 2009 film WHATEVER WORKS, most of Allen's films, with the exception of BLUE JASMINE, have been considered lightweights, but MAGIC IN THE MOONLIGHT is even more of a disappointment. His period piece takes us back to 1929 complete with top hats, long pearl necklaces and see-through dresses. The film is set on the French Riviera at the home of the wealthy Catledge family where the English magician Stanley (Colin Firth), whose stage name is Wei Ling Soo, travels to meet the young American clairvoyant Sophie (Emma Stone). Stanley, a convinced atheist, a cynic and a pessimist, in fact the alter ego of his stage personality, resolves to show that Sophie is a fraud. Yet her predictions are incredibly accurate and the priggish Englishman soon falls for her magic – and her American charm. Allen has done a better job with the dichotomies one finds in this film: the old and new world, spiritualism and atheism, god. As Stanley said: There might be a higher power or maybe not, but there is definitely magic.
Screenings
OV

Original version

OmU

Original with German subtitles

OmeU

Original with English subtitles
Keine Programmdaten vorhanden.
ALLE ANGABEN OHNE GEWÄHR.
Die Inhalte dieser Webseite dürfen nicht gehandelt oder weitergegeben werden. Jede Vervielfältigung, Veröffentlichung oder andere Nutzung dieser Inhalte ist verboten, soweit CINEMATIC BERLIN nicht ausdrücklich schriftlich ihr Einverständnis erklärt hat.