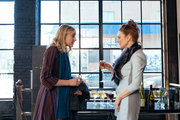 Maggie's Plan
New York university employee Maggie is planning to have a child. She has already set a date, found a willing sperm donor, and accumulated some savings. But when she meets John, a depressed professor of "Fictional Anthropology", her meticulous ...
New York intellectual romantic comedies have been the terrain of insecure super macho Woody Allen for decades. Director Rebecca Miller has now given the subgenre a feminist update for the share economy generation. Where before it was the failed intellectual hero who fell in love with a successful student, this time it's successful university employee Maggie who is at the center. Maggie (Greta Gerwig, indie heroine of FRANCES HA) looks like butter wouldn't melt in her mouth. The blonde hair is always in a practical braid and the outfits are twee: playful, high-necked dresses with slips, comfortable shoes, colorful wool tights, and a cute hat. Maggie is always friendly and helpful and she is very, very well organized. She helps art graduates land on their feet in the real world and has also planned everything out in her private life. Her current project is a child. The sperm donor – an ex-classmate – has already been booked and the timing is perfect. But then Maggie falls for John (Ethan Hawke), a failed professor of "fictional anthropology" who's going through a marriage crisis and is working on a book and the plan veers off course. By then it's clear the harmless Quaker girl is actually a manic control freak underneath. Maggie counters the unpredictability in her life with new, increasingly wild plans but everyone else in this likable romantic comedy is dealing with their own special neuroses; no one here is "normal." Julianne Moore, who plays John's sophisticated Danish wife Goergette, is especially fabulous. The manner in which she puts a big chunk of butter in her coffee in order "to stop the sugar craving" is inimitable, for example.
Hendrike Bake (INDIEKINO MAGAZIN)
Translation: Elinor Lewy
ALLE ANGABEN OHNE GEWÄHR.
Die Inhalte dieser Webseite dürfen nicht gehandelt oder weitergegeben werden. Jede Vervielfältigung, Veröffentlichung oder andere Nutzung dieser Inhalte ist verboten, soweit CINEMATIC BERLIN nicht ausdrücklich schriftlich ihr Einverständnis erklärt hat.