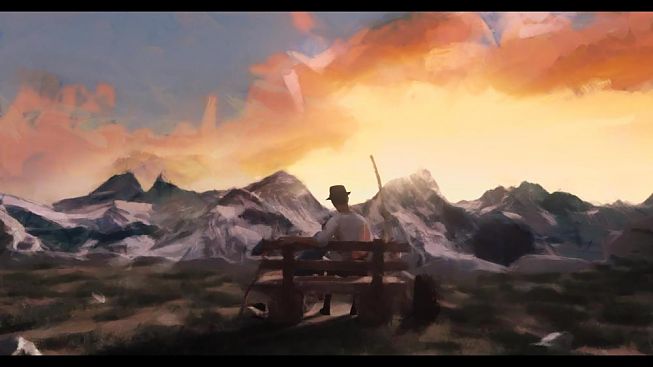 Little Germans
The documentary KLEINE GERMANEN interviews representatives of the New Right and shows how right-wing ideology is transmitted within the family.
Germany 1974: Elsa doesn't mind that her parents are always busy and that it's usually her grandpa who watches over her. She loves reenacting battles against the Red Army with him. Or hearing him read her stories about "vermin." When the two go hiking, her grandpa reminds her that German soldiers don't feel pain. As an adult Elsa will meet her husband at a nationalist movement meeting, move to the country with her family, and teach her kids what her grandpa taught her far away from big city influences. One day, her husband has to go to jail and she starts questioning everything she saw as a given her whole life. It's her children who cause her to do a complete 180.

Elsa's life is told in watercolor animation which emphasizes the influence her early childhood education had on her adult worldview. The last third the story falls into a broad, familiar pattern and shows Elsa as a victim of a tyrannical husband instead of dealing with her internal changes in more detail. The intercut interviews with representatives of the new right who talk about a yearning for a carefree childhood and how the strict and disciplined upbringing of their own children is meant to enable something similar are more interesting. A lot of what they do is irrational according to Götz Kubitschek, the head of the right-wing "Antaios" publishing house, and Martin Sellner and the "full-time mother and defendent" Sigrid Schüßler views on Christianity are indeed completely opposed. What's true for everyone is that they have a corrosive hardness towards themselves, their children, and "the enemy."
Christian Klose (INDIEKINO MAGAZIN)
Translation: Elinor Lewy
ALLE ANGABEN OHNE GEWÄHR.
Die Inhalte dieser Webseite dürfen nicht gehandelt oder weitergegeben werden. Jede Vervielfältigung, Veröffentlichung oder andere Nutzung dieser Inhalte ist verboten, soweit CINEMATIC BERLIN nicht ausdrücklich schriftlich ihr Einverständnis erklärt hat.