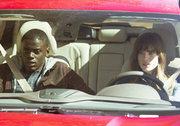 Get Out
On April 29th 15 year old Jordan Edwards left a party in Balch Springs, a Dallas suburb. A neighbor contacted the police because the party was too loud. Policeman Roy Oliver shot at the car pulling out where Jordan, his brother and his friends were sitting. Jordan Edwards was shot in the back of the head. The policeman Roy Oliver was fired, but he hasn't been arrested yet. Black teenagers are allowed to get shot at by the police in the US. That's not the case in Germany. Asylum seekers merely die under "mysterious circumstances" while in police custody, like in the 2005 Oury Jalloh case in Dessau.

Jordan Peele's horror film GET OUT deals with this aspect of African-American daily life. The film begins with a young black man walking on the street in a rich white neighborhood. He is nervous, tries to call someone. He is obviously lost. It's night. The situation is a familiar horror trope: someone (usually a white women) is in the wrong place, they won't live for long. But the scene also reflects black everyday existence, especially black men. Trayvon Martin must have looked quite similar before neighborhood watchman George Zimmermann shot him dead.

Young, black photographer Chris is about to visit his white girlfriends parents for the first time on the weekend where Rose's parents have a big garden party planned. Chris is worried, his friend Rod warns him: don't trust them, don't go there. But Rod is a bit off and Rose assures Chris that her parents aren't racist at all. When Rose runs over a deer on their way there, Rose and Chris call the police. When the cop wants to see Chris's ID, Rose makes a scene while Chris tries to calm the situation down. Rose makes herself out to be a liberal anti-racist and puts Chris in danger by not acknowledging how tense the situation is for him. At least, that's what his impression is of her: sweet but completely naïve.

Jordan Peele, most known as one half of the comedy duo Key & Peele, takes known horror tropes and shifts their meaning by relating them to the black contemporary experience. It makes for an extremely suspenseful and original horror film as well as a highly biting satire. The slasher episode in the beginning is a warning before the real story begins.

There are hints at the plans Rose's parents have for Chris, but they appear to be creepily likable. Jordan Peele succeeded in making a wonderful satire about complete assimilation and utopian, liberal culture. GET OUT has original images, a very unique atmosphere, and is thrilling right to the end.
Translation: Elinor Lewy
Screenings
OV

Original version

OmU

Original with German subtitles

OmeU

Original with English subtitles
ALLE ANGABEN OHNE GEWÄHR.
Die Inhalte dieser Webseite dürfen nicht gehandelt oder weitergegeben werden. Jede Vervielfältigung, Veröffentlichung oder andere Nutzung dieser Inhalte ist verboten, soweit CINEMATIC BERLIN nicht ausdrücklich schriftlich ihr Einverständnis erklärt hat.