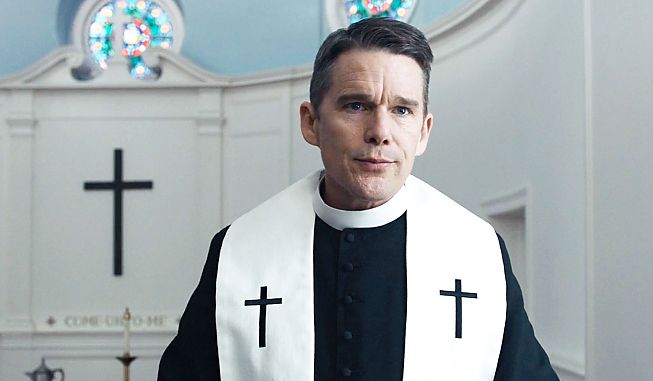 First Reformed
Pastor Ernst Toller is seriously ill, he is eaten up by guilt over his son's death in Iraq. When he meets environmentalists Mary and Michael, his crisis deepens – until he makes a terrible decision.
Paul Schrader is one of the most powerful screenwriters in US cinema. It's hard to believe that FIRST REFORMED was his first Oscar nomination considering masterpieces like TAXI DRIVER, RAGING BULL, and MISHIMA. FIRST REFORMED turned out to be too radical for the Oscars and the film was too edgy for German film distributors as well. Now fsk Kino is showing Schrader's film on their own accord. FIRST REFORMED is a deeply spiritual film and a dizzyingly tense philosophical thriller that asks profound religious, moral, and psychological questions. In the old "First Reformed" colonial church, that has more tourists than patrons, pastor Ernst Toller (Ethan Hawke) is in an unforgiving position. Toller was in the military and urged his son to serve. His son died in Iraq, his marriage fell apart. Toller is eaten away by guilt, depressed, and sick. He writes in his diary as a kind of spiritual exercise. When pregnant, young Mary asks him for help because her husband Michael, an environmental activist, doesn't leave the house anymore and doesn't want to bring a child into this world, the encounter with the desparate young man puts Toller deeper in crisis leading him to make a terrible decision. Ethan Hawke plays the driven pastor with incredible focus, Schrader makes Toller's world an almost completely decolorized darkness which is further blackened by Michael's descriptions of apocalyptic environmental destruction. FIRST REFORMED is also one of the few films in recent years that makes a lonely man finding salvation through the touch of a woman seem believable.
Translation: Elinor Lewy
Screenings
OV

Original version

OmU

Original with German subtitles

OmeU

Original with English subtitles
ALLE ANGABEN OHNE GEWÄHR.
Die Inhalte dieser Webseite dürfen nicht gehandelt oder weitergegeben werden. Jede Vervielfältigung, Veröffentlichung oder andere Nutzung dieser Inhalte ist verboten, soweit CINEMATIC BERLIN nicht ausdrücklich schriftlich ihr Einverständnis erklärt hat.