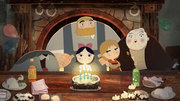 Song from the Sea
SONG FROM THE SEA, told in beautiful, hand painted animated images is the story of a brother and a sister who go through a series of adventures inspired by Irish folk tales and finally become friends.
Ben, the son of a lighthouse keeper, is 4 in the beginning. His mother is expecting a child and Ben is excited about being the best brother in the world. 4 years later, the world has changed. The mother is missing. The lighthouse keeper, big and strong with arms like Popeye, has become sad. Ben is not the best brother in the world: he tattles on his sister, is annoying, and isn't generous. Small Saoirse doesn't talk. The grandmother convinces the father that the children are being neglected on the island and that they should come live in the city with her. Ben and Saoirse have to find a way from Dublin to their island and they have to find Saoirse's sealskin, since the girl is a selkie and can transform into a seal like her mother. The journey is a magical adventure: evil owl creature Maca, who takes people's emotions away, is hot on their trail. The good trolls and happy seals, who look a bit like small moles, help them on their way.
Irish animator Tomm Moore says that Hayao Miyazaki is his biggest role model. Not only is the warmth that comes out of his gentle, hand-drawn images something that binds them but it's also his fondness for interesting detours and absurd details. SONG FROM THE SEA is brimful of stories from Irish mythology as well as small daily episodes from the real world. What connects Moore and Miyazaki most is that their stories are about families. Jealousy among siblings, love, fear, anger, and sadness. Distrust and trust. Misunderstandings and real pain that can heal. SONG FROM THE SEA is about all of these things, told in direct, poetic images filled with humor and empathy.
Hendrike Bake (INDIEKINO MAGAZIN)
Translation: Elinor Lewy
Screenings
OV

Original version

OmU

Original with German subtitles

OmeU

Original with English subtitles
ALLE ANGABEN OHNE GEWÄHR.
Die Inhalte dieser Webseite dürfen nicht gehandelt oder weitergegeben werden. Jede Vervielfältigung, Veröffentlichung oder andere Nutzung dieser Inhalte ist verboten, soweit CINEMATIC BERLIN nicht ausdrücklich schriftlich ihr Einverständnis erklärt hat.