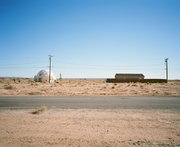 California City
A man searches for mosquito breeding grounds in CALIFORNIA CITY, where many houses were abandoned following the aftermath of the real estate crash. While he sprays insecticides into kitchen sinks and dried out pools, he dreams of his lost love.
CALIFORNIA CITY, in the middle of the Mojave Desert, was the outlandish dream of investor Nat Mendelsohn who designed the perfect city in the 50s near an artificial sea, surrounded by an artificially irrigated park, and the Elysium suburb with its made up street names, streets that were built in the hope to one day be filled with houses. You can see the bizarre images on google maps: surface-wise, CALIFORNIA CITY is the third largest city, but there are barely any houses. The houses that were built – the city used to have 14,000 inhabitants – were hit hard during the real estate crash. Hundreds of houses were left by their owners when they could no longer pay their installments.

Bastian Günther's film CALIFORNIA CITY follows a man as he investigates the remnants of the abandoned houses with their dried up pools and searches for puddles and moist areas where swarms of mosquitoes have taken over. The man sprays the puddles, the pools, the empty kitchens, and the surrounding areas with poison while thinking about his former love. He calls fortune teller hotlines at night in a depressing hotel room. Sometimes he comes across a hopeless real estate agent that had to give up his own house and a few others who remained in CALIFORNIA CITY. A post-apocalyptic film, something between a documentary, an essay film, and fiction. The images of the deserted concept city are oppressive but also as strangely ruminant as a day where it's too hot to think. At some point, the man realizes that there aren't any mosquitos left. The most lonely insect exterminator cannot possibly get any lonelier.
Translation: Elinor Lewy
ALLE ANGABEN OHNE GEWÄHR.
Die Inhalte dieser Webseite dürfen nicht gehandelt oder weitergegeben werden. Jede Vervielfältigung, Veröffentlichung oder andere Nutzung dieser Inhalte ist verboten, soweit CINEMATIC BERLIN nicht ausdrücklich schriftlich ihr Einverständnis erklärt hat.