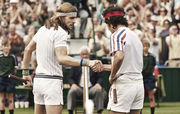 Borg McEnroe
Sverrir Gudnason is Swedish tennis champion Björn Borg. Shia LaBeaof is his rowdy opponent John McEnroe.
Tennis isn't a very cinematic sport. There are legendary baseball, football, basketball, dance, sailing, and boxing films and even some good soccer films, but no legendary tennis films. Tennis is hard to capture on camera, the movements are difficult to reset, and it's hard to edit unlike a punch or a soccer pass. With tennis, you need the entire visual and length to understand the dramaturgy. Two films are coming out about tennis legends soon, BATTLE OF THE SEXES is opening in November and tells a feminist heroine saga about six-time Wimbledon winner Billy Jean King, while BORG/MCENROE is about the male Wimbledon finale of 1980. BATTLE OF THE SEXES is unquestionably the superior film, but is barely interested in the sport. BORG/MCENROE is interested in nothing else and is the better sports film. In 1980 John McEnroe was considered to be the bad boy of tennis because of his constant aggressive outbursts against referees, doves on the stadium roof, and the audience. His game was spectacular, with quick serves and incredible volleys and drop shops. Björn Borg was seen as an iceberg that didn't show any emotions while serving tennis balls from the baseline. Janus Metz' film shows tennis as a pressure chamber most fitting for crazy individuals. Borg is a pedantic, depressed, obsessive neurotic who sublimates his anger into compulsive behavior, while McEnroe uses his outbursts of rage to stay sharp. It is perhaps not very deep, but BORG/MCENROE does contribute something new to the sports film genre: only extremely neurotic characters can participate in a circus like professional tennis. The protagonists are insane. The tennis scenes are excellent and portrayed in an absolutely believable way.
Translation: Elinor Lewy
Screenings
OV

Original version

OmU

Original with German subtitles

OmeU

Original with English subtitles
ALLE ANGABEN OHNE GEWÄHR.
Die Inhalte dieser Webseite dürfen nicht gehandelt oder weitergegeben werden. Jede Vervielfältigung, Veröffentlichung oder andere Nutzung dieser Inhalte ist verboten, soweit CINEMATIC BERLIN nicht ausdrücklich schriftlich ihr Einverständnis erklärt hat.