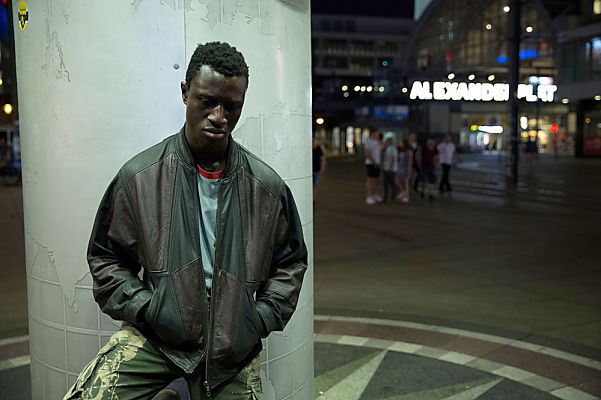 Berlin Alexanderplatz
In Burhan Qurbani's new adaptation of Döblin's "Berlin Alexanderplatz," Franz Biberkopf is replaced by Francis, a migrant from Guinea-Bissau who feels responsible for his wife's drowning in the Mediterranean and wants to become a good ...
Burhan Qurbani's adaptation of the montage novel by Alfred Döblin is the third screen adaptation of the material. Both the 1931 film by Piel Jutzi with a screenplay by Döblin and Rainer Werner Fassbinder's long version from 1980 were highlights of their time. Jutzi's brutal montages and Fassbinder's distanced melodrama that also gave Döblin's language and form a lot of room, is a powerful tradition that one should approach carefully.
Qurbani adopts an excessive, almost expressionist style that draws the plot together into a cinematic Berlin that is more of an expression of the different lifestyles living in today's capital than a representation thereof. The Franz Biberkopf character is now Francis (Welket Bungué), a migrant from Guinea-Bissau who feels responsible for the drowning of his wife in the Mediterranean and wants to become a good person because of it – and is thereby more sympathetic than killer and rapist Franz Biberkopf. He works as an illegally employed day laborer in a factory until small time crook Reinhold appears in the refugee shelter and promises a lot of money for little work. Francis becomes Reinhold's right hand man at Hasenheide drug deals and follows him into the criminal underworld that surrounds gang leader Pums (Joachim Król). Qurbani connects this world of organized crime with Berlin's pansexual party scene and the alienation Francis feels towards it replaces what Biberkopf fostered towards the Jews living in the Scheunenviertel. Welket Bunguès' Francis is a large, powerful man who represents the brooding center in the film's panopticon. Albrecht Schuch plays the misshapen, psychopathic Reinhold as though he just jumped out of a demonic screen of a 1920s silent films. Qurbani aims for a brachial, nightmarish form that combines with a wild determination which have little to do with each other and definitely complies with Döblin's formal language. There are films with images you quickly forget. It's hard to get the exalted scenes in BERLIN ALEXANDERPLATZ out of your head.
Translation: Elinor Lewy
Original title: Berlin Alexanderplatz
Deutschland/Niederlande 2020, 183 min
Language: German, English, French
Genre: Drama, Literary Film Adaptations, Metropolitan Movie
Director: Burhan Qurbani
Author: Martin Behnke, Alfred Döblin, Burhan Qurban
DOP: Yoshi Heimrath
Montage: Philipp Thomas
Music: Dascha Dauenhauer
Distributor: eOne
Cast: Welket Bungué, Jella Haase, Albrecht Schuch, Joachim Król, Annabelle Mandeng
FSK: 12
Release: 16.07.2020

Website
ALLE ANGABEN OHNE GEWÄHR.
Die Inhalte dieser Webseite dürfen nicht gehandelt oder weitergegeben werden. Jede Vervielfältigung, Veröffentlichung oder andere Nutzung dieser Inhalte ist verboten, soweit CINEMATIC BERLIN nicht ausdrücklich schriftlich ihr Einverständnis erklärt hat.