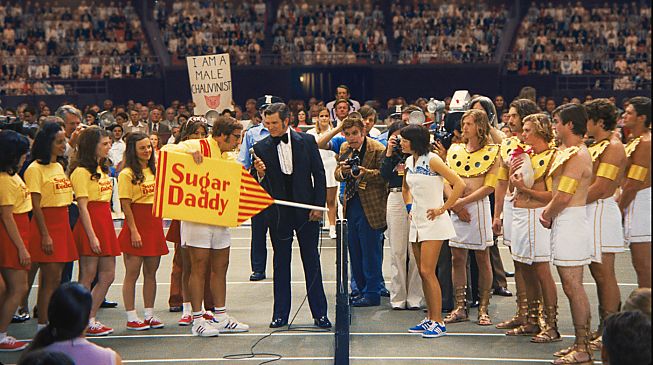 Battle of the Sexes
Following the formation of the Women's Tennis Association, Billie Jean King is challenged to a match by 55- year-old tennis buffoon Bobby Riggs. The match is marketed as a BATTLE OF THE SEXES. At the same time, King falls for stylist Marilyn.
From the mid 60s to the mid 70s, Billy Jean King dominated the tennis world. King helped found the "Virginia Slims" tennis tournament, the first independent tournament for women, which the WTA (Women's Tennis Association) emerged out of later on. The professional tennis player decided to break with the male-dominated ATP (Association of Tennis Professionals), because women in the ATP only received a fraction of the prize money that male professionals received. BATTLE OF THE SEXES is a portrait of Bille Jean King during this phase, a film about unchecked sexism in the sport, a queer love story, and an examination of the culture of "funny" sexism. In 1973 Billie Jean King (Emma Stone) is challenged to a tennis game by 55 year old ex-champion Bobby Riggs (Steve Carell). Riggs wants to prove that men are superior to women in tennis and in just about anything else too. Bobby Riggs was a kind of tennis clown at the time. He played in matches while simultaneously walking his dog of filling the court with chairs. Steve Carell captures Riggs public persona well, but it's hard to believe he could survive a tennis match. Billie Jean King says the most important line when asked about her relationship to Bobby and his macho statements. She's not angry with him because he's a clown. But the culture which thrives on Bobby's jokes is dangerous. If King doesn't win, women's tennis will be discredited for years and be ridiculed. The less serious sexism appears to be, the more serious it is in reality.
Translation: Elinor Lewy
Screenings
OV

Original version

OmU

Original with German subtitles

OmeU

Original with English subtitles
Keine Programmdaten vorhanden.
ALLE ANGABEN OHNE GEWÄHR.
Die Inhalte dieser Webseite dürfen nicht gehandelt oder weitergegeben werden. Jede Vervielfältigung, Veröffentlichung oder andere Nutzung dieser Inhalte ist verboten, soweit CINEMATIC BERLIN nicht ausdrücklich schriftlich ihr Einverständnis erklärt hat.