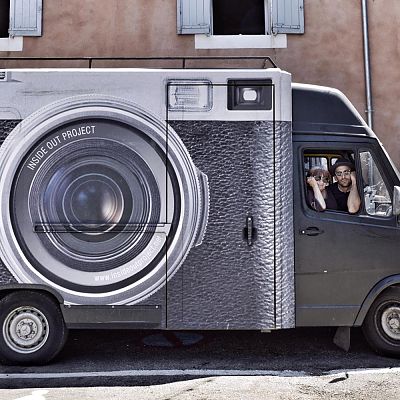 Visages, Villages
90-year-old avant garde filmmaker Agnès Varda went on a road trip across the French province with street art artist JR and made art events in cooperation with the residents.
90 year old avant-garde filmmaker Agnès Varda went on a road trip across the French province with street art artist JR and put huge photo collages on house walls. The images show miners who used to inhabit little brick houses, farmers that work as individual entrepeneurs working on one piece of land today who used to plough dozens, and 3 wives of the dock workers of Marseille that the duo shows as gigantic Greek goddesses on 91 cargo crates. JR and Varda always get in conversation with the residents in the process.

Varda compiles the impressions of the trip, the personal and political, conversations and encounters into a mischievous and political documentary that keeps changing topics but follows one idea. One scene sequence looks like this: Agnès Varda was at the eye doctor, she was given an injection in her eyeball. She talks about imagining the scene from UN CHIEN ANDALOU during the procedure where the eye is split with a razor blade. It's nothing compared to that. The Varda and JR recreate what Varda saw in her eye test: many rows of people hold up letters on a big outside staircase, the big ones are up the staircase and the small ones are below. Varda says they have to move, and JR asks the people to move and the living tableau begins to shake. "It's blurry, but I see you," says Varda – and that's one of the key statements of the film.

The entire film is just as associative and playful. Seemingly accidental ideas and encounters are strung together, art is always a topic, everything is always very friendly, but it's about a big project: about seeing and making visible. It doesn't matter if the perception is blurry. It also doesn't matter whether you consider JR's graffiti-like collages as art. What they do is redefine what is seen, what is worthy of memorializing, discussing, being in the news, and it does that in an undeniably fun way. It could be a deserted village, factory staff members, or at one point, a happy goat.
Hendrike Bake (INDIEKINO MAGAZIN)
Translation: Elinor Lewy
Screenings
OV

Original version

OmU

Original with German subtitles

OmeU

Original with English subtitles
ALLE ANGABEN OHNE GEWÄHR.
Die Inhalte dieser Webseite dürfen nicht gehandelt oder weitergegeben werden. Jede Vervielfältigung, Veröffentlichung oder andere Nutzung dieser Inhalte ist verboten, soweit CINEMATIC BERLIN nicht ausdrücklich schriftlich ihr Einverständnis erklärt hat.