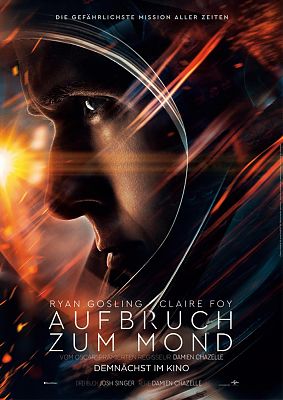 First Man
Damien Chazelle's screen adaptation of the first moon expedition is about the dark side of the expedition, the hardships, failures, and the loneliness of an astronaut in space.
Damien Chazelle's follow-up to audience favorite and almost Oscar winner LA LA LAND is perhaps the riskiest blockbuster I know. Chazelle tells the story of astronaut Neil Armstrong as an action spectacle and suicide mission on one hand and as a grieving processs on the other. Armstrong lost his little daughter before he applied to NASA's Gemini Project. The flights in space, and especially the landing in Mare Trainquillitatis on the moon are trips to the dead calm of emotion here. Ryan Gosling as Armstrong succeeds in showing someone who can't externalize anything and who has a weight bigger than the universe on his soul. FIRST MAN is everything but a patriotic heroic story.

Armstrong's gradual silence happens in parallel to turbulent events. The action scenes here sometimes look like abstract experiments when you just see the flashes of light racing on the screen. The sounds of metal capsules which catapult the astronauts into space, the grinding, clicking, and banging that seem to threaten neck fractures is all staged in a breakneck, breathtaking way. FIRST MAN is physical and sustains a feeling of mortal danger and isolation at all times. Chazelle's film would also work as a silent film. The dialogue isn't always comprehensible, its snarled, whispered, mumbled, buried under the debris of sound, but its content shows itself on the bodies. FIRST MAN probably isn't cheerful enough to be an audience favorite, but goodness what a film! Only a few films have been situated so far away from the world of humans, and none of them have been blockbusters.
Translation: Elinor Lewy
Screenings
OV

Original version

OmU

Original with German subtitles

OmeU

Original with English subtitles
Keine Programmdaten vorhanden.
ALLE ANGABEN OHNE GEWÄHR.
Die Inhalte dieser Webseite dürfen nicht gehandelt oder weitergegeben werden. Jede Vervielfältigung, Veröffentlichung oder andere Nutzung dieser Inhalte ist verboten, soweit CINEMATIC BERLIN nicht ausdrücklich schriftlich ihr Einverständnis erklärt hat.