Movie archive: 5 search hits
Interviews: no search hits
Movie archive
Ach du Scheiße! – Holy Shit! | Deutschland 2022 | Action, Comedy, Thriller | Lukas Rinker | 16
Frank wakes up. He's in a portable toilet. The toilet is in a construction pit. Frank has to free himself. Lukas Rinker confidently switches between a highly tense thriller, pitch-black comedy and violent splatter.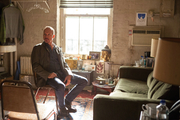 Birdman or the Unexpected Virtue of Ignorance | USA 2014 | Drama, Comedy | Alejandro González Iñárritu | 12
BATMAN-Star Michael Keaton plays Riggan Thomson, an ageing actor who used to be a star as the hero of BIRDMAN series. Now, at age 60 he has another go at lasting fame with an adaptation of Raymond Carvers 'What We Talk About When We Talk About Love'.
USA 2020 | Semi-documentary Film | Bill Ross, Turner Ross | 12
A piece of old school Americana: the last night of a bar, somewhere in the outskirts of Las Vegas, where all the bar flies hang out in the place that has become their second (or only) living room for one last time.
Somebody Up There Likes Me | Großbritannien 2019 | Biography, Documentary | Mike Figgis | 6
Portrait of the Rolling Stones' second guitarist - never as much in the limelight as Jagger and Richards but just as fascinating.
A Royal Night Out | Großbritannien 2015 | Drama, Love Stories | Julian Jarrold | 6
It is a historical fact that the young princesses Elisabeth and Margaret didn't spent V-Day at Buckingham Palace. The romance that A ROYAL NIGHT depicts on that night is pure rumbustious invention.
ALLE ANGABEN OHNE GEWÄHR.
Die Inhalte dieser Webseite dürfen nicht gehandelt oder weitergegeben werden. Jede Vervielfältigung, Veröffentlichung oder andere Nutzung dieser Inhalte ist verboten, soweit CINEMATIC BERLIN nicht ausdrücklich schriftlich ihr Einverständnis erklärt hat.