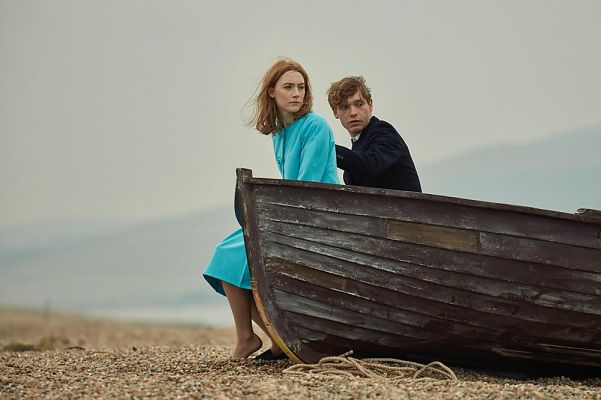 On Chesil Beach
ON CHESIL BEACH, based on the Ian McEwan novel, revolves around a single moment, a single fatal, unsuccessful encounter: the wedding night of Florence and Edward in a small hotel on the pebble beach of Chesil Beach in 1962.
ON CHESIL BEACH focuses entirely on a young couple, played with an inner glow and a frustrating shyness, by Saoirse Ronan and Billy Howle. The film and the novel revolve around one day, one evening, one disastrously failed conversation. Florence and Edward are newlyweds and just arrived at their honeymoon destination: a small hotel on Chesil Beach, a kilometer long pebble beach in Dorset, South England. The sea has allegedly sorted the pebbles by size and fishermen can recognise where they have disembarked by the pebble size. Florence and Edward want to check that later on while on their walk. But they're still sitting, tense and with no appetite, having their wedding food at the hotel. The marriage bed is next door. ON CHESIL BEACH meticulously follows the excruciatingly tiny steps in which the couple near the bed or rather their first time. Edward is full of expectation and overzealous, Florence is panicked.

Ian McEwan is all about the details. The moment when Edward tries to open Florence's dress, fails, and gets impatient. Or the moment when she says "I'll do it" and the distance between them grows. You want to shake both of them and tell them to take a deep breath and take their time. Because it's clear that Florence and Edward, whose background and love story is told in flashbacks, really like each other. The ambitious musician from the academic household and the dreamer history student with the crazy mother are actually a good team.

Like many Ian McEwan stories, ON CHESIL BEACH shows a moment, an encounter, an interaction, which accumulates a life lived so far and will decide how that life will continue with great psychological clarity. In ON CHESIL BEACH it's the wedding night, but it could also be any small moment in any other life. While the book only shortly goes into how Edward's life will continue after that fateful hour, the film gives viewers and the two more time with each other.
Hendrike Bake (INDIEKINO MAGAZIN)
Translation: Elinor Lewy
Screenings
OV

Original version

OmU

Original with German subtitles

OmeU

Original with English subtitles
ALLE ANGABEN OHNE GEWÄHR.
Die Inhalte dieser Webseite dürfen nicht gehandelt oder weitergegeben werden. Jede Vervielfältigung, Veröffentlichung oder andere Nutzung dieser Inhalte ist verboten, soweit CINEMATIC BERLIN nicht ausdrücklich schriftlich ihr Einverständnis erklärt hat.