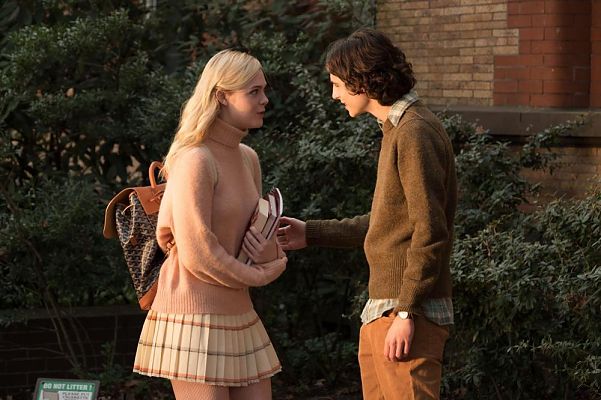 A Rainy Day In New York
A RAINY DAY IN NEW YORK is another entry in Woody Allen's list of light urban romantic comedies, following MIDNIGHT IN PARIS, TO ROME WITH LOVE, and VICKY CRISTINA BARCELONA.
With over fifty years worth of nearly a-film-a-year output, many moviegoers will know by now whether they intend to see the latest Woody Allen offering. You've either "cancelled" him or not. If you're still interested after all these years, the question is whether the new one is a comedy, drama, or one of his leftfield thrillers, like MATCH POINT or CASSANDRA'S DREAM.

A RAINY DAY IN NEW YORK fits squarely within Allen's comedy wheelhouse of having erudite folks walking around New York City, casually delivering cutting remarks and witty rejoinders with hardly a pause for air. The good news is, RAINY DAY is Allen's funniest movie since MIDNIGHT IN PARIS, with an extremely strong cast working in harmony with one of Allen's better late-career scripts.

This time, the story takes place over 24 hours or so, as two college-students-in-love, Ashleigh (Elle Fanning) and Gatsby (Timothée Chalamet), are in town for a couple of days of business and pleasure. Ashleigh (spelled "the Fortune 500 way," as one character puts it) has an exciting opportunity to conduct an interview with a famous film director, while Gatsby is eager to spend some of his recent poker winnings. Despite making plans for romance, the two are quickly separated and caught up in parallel misadventures that test their relationship as well as their sense of identities.

The female leads often shine brightest in Allen's films and RAINY DAY continues that tradition. While Chalamet does an admirable job breathing life into a variation on a familiar Allen character (the guy who would rather be living in the Jazz Age), it is Fanning who steals the show. She is an absolute marvel who exudes the same kind of electrifying off-kilter enchantment that Diane Keaton once brought to Allen's films. So it comes as a bit of a shame that the conclusion to her character's journey feels slightly underwhelming.

Aside from that, A RAINY DAY IN NEW YORK delivers the charm and wit one hopes for. Plus, it continues a fruitful collaboration between the 83-year-old Allen and the legendary 79-year-old cinematographer Vittorio Storaro, whose work fills every scene with sumptuous delight.
Screenings
OV

Original version

OmU

Original with German subtitles

OmeU

Original with English subtitles
Keine Programmdaten vorhanden.
ALLE ANGABEN OHNE GEWÄHR.
Die Inhalte dieser Webseite dürfen nicht gehandelt oder weitergegeben werden. Jede Vervielfältigung, Veröffentlichung oder andere Nutzung dieser Inhalte ist verboten, soweit CINEMATIC BERLIN nicht ausdrücklich schriftlich ihr Einverständnis erklärt hat.