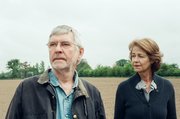 45 Years
Kate (Charlotte Rampling) and Geoff (Tom Courtenay) are about to celebrate their 45th wedding anniversary when news reaches them that Geoff's former girlfriend Katya who died in a hiking accident has been found in a glacier. The perfectly ...
45 YEARS is based on David Constantine's "In Another Country." Constantine is one of the most important translators of German literature in Britain. He translated Goethe's "Faust," Hölderlin, and Kleist. In Constantine's story Mr. Mercer gets the news that his first love Katya, who met her unfortunate demise in the Alps, was found frozen in a crevasse. Mr. Mercer is filled with emotions but seems like he is losing his mind on the outside. Mrs. Mercer feels that her husband's obsessiveness is unfair but is powerless against it.

Andrew Haighs adapted David Constantine's story like a virtuoso and widened its focus. Geoff Mercer (Tom Courtenay) is a retired engineer, a staunch leftist and unionist, a Tory and New Labor hater, an aging but still angry rebel. His wife Kate (Charlotte Rampling) is a self-possessed, organized, and confident lady who is preparing the couple's 45th wedding anniversary. When Geoff gets the news about his then-fiancé Katya, it destabilizes their world. Geoff keeps thinking about his time with Katya. They went off together, not knowing where they wanted to go but knowing they would arrive somewhere. Geoff yearns for this utopia that always had an element of irrationality. The fact that he is played by Tom Courtenay, the protagonist of Tony Richardson's THE LONELINESS OF THE LONG DISTANCE RUNNER (1962), one of the most iconic rebels of the 1960s, lends the film another layer. Charlotte Rampling, a style icon of the 60s and 70s that is at least as iconic and provocative (THE NIGHT PORTER, THE DAMNED) appears here as an upper class lady who picked a rebel and has tolerated his quirks and inner rage, who perhaps was also fascinated by it, yet who is mostly interested in English gardens, an ideal of artificiality which simulates nature and attempts to improve upon it. She suddenly realizes that she was only the second love of her husband's. Katya represents utopian socialism, youth, uncontrolled love and romance and Kate and Geoff's marriage, on the other hand, was a rushed compromise. 45 YEARS is a wonderful, psychologically accurate film with two impeccable performers. Charlotte Rampling and Tom Courtenay both received the Silver Bear for best acting at the Berlinale.
Translation: Elinor Lewy
ALLE ANGABEN OHNE GEWÄHR.
Die Inhalte dieser Webseite dürfen nicht gehandelt oder weitergegeben werden. Jede Vervielfältigung, Veröffentlichung oder andere Nutzung dieser Inhalte ist verboten, soweit CINEMATIC BERLIN nicht ausdrücklich schriftlich ihr Einverständnis erklärt hat.