Cinema listings: no search hits
Movie archive: 12 search hits
Interviews: no search hits
Movie archive
The Laundromat | USA 2019 | Comedy, Literary Film Adaptations, Satire | Steven Soderbergh | 12
Panama Papers: The Film
Kimi | USA 2022 | Drama, Thriller | Steven Soderbergh
Behind the Candelabra | USA 2013 | Biography, Drama | Steven Soderbergh | 12
Animal wrangler Scott Thorson meets the famous virtuoso pianist and entertainer Liberace in 1977. Liberace is fascinated with Scott and falls in love with him. They become lovers and start a five-year secret relationship.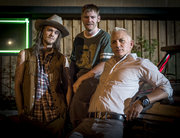 USA 2017 | Crime Comedy | Steven Soderbergh | 12
Steven Soderbergh's scoundrel comedy LOGAN LUCKY is like a smaller OCEANS 11 set in working-class West Virginia and is all about the lovable, bizarre characters a la the Coen brothers.
USA 2023 | Drama, Comedy | Steven Soderbergh | 12
USA 2021 | Crime Drama, Drama, Thriller | Steven Soderbergh | 12
Period gangster thriller directed, shot and edited by Stephen Soderberg.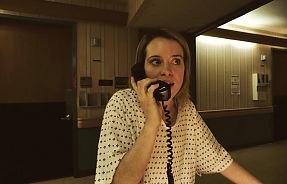 Unsane | USA 2018 | Psychothriller, Horror, Drama | Steven Soderbergh | 16
A young woman fleeing from her stalker lands in the psychiatric ward and recognizes one of her nurses as her stalker. Steven Soderbergh shot this simple B movie on his iPhone.
ALLE ANGABEN OHNE GEWÄHR.
Die Inhalte dieser Webseite dürfen nicht gehandelt oder weitergegeben werden. Jede Vervielfältigung, Veröffentlichung oder andere Nutzung dieser Inhalte ist verboten, soweit CINEMATIC BERLIN nicht ausdrücklich schriftlich ihr Einverständnis erklärt hat.