Movie archive: 4 search hits
Interviews: no search hits
Movie archive
Kanada/Irland 2020 | Drama | Matt Bissonnette | 16
Sam (Gabriel Byrne) is an alcoholic and a university professor and an old charmer, even if that doesn't totally work anymore. Recently, he's been having strange hallucinations and is haunted by memories of his father.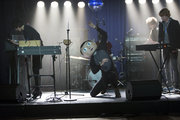 Irland/Großbritannien 2013 | Comedy | Leonard Abrahamson | 12
British small town wannabe musician Jon stumbles into the band Soronprfbs, led by the charismatic and ingenious FRANK, who never takes his artificial head off. Soon Jon finds himself on a collision course with the excentric members of the Band.
Good Luck To You, Leo Grande | Großbritannien 2022 | Comedy, Drama | Sophie Hyde | 12
Emma Thompson plays 55-year-old widow Nancy who feels like she missed out on having great sex in her life and threfore hires sex worker Leo Grande.
Room | Kanada/Irland 2015 | Drama | Lenny Abrahamson | 12
Joy and her Son Jack are kept in a small room by Joy's kidnapper. Jack was born in this room, and Joy pretends that the room is the only thing that really exists in the world. But Jack is getting too old for this illusion.
ALLE ANGABEN OHNE GEWÄHR.
Die Inhalte dieser Webseite dürfen nicht gehandelt oder weitergegeben werden. Jede Vervielfältigung, Veröffentlichung oder andere Nutzung dieser Inhalte ist verboten, soweit CINEMATIC BERLIN nicht ausdrücklich schriftlich ihr Einverständnis erklärt hat.