Cinema listings: no search hits
Movie archive: 5 search hits
Interviews: no search hits
Movie archive
A Christmas Carol | USA 2009 | Drama, Family Film, Fantasy | Robert Zemeckis
The Walk | USA 2015 | Adventure, Biography, Drama | Robert Zemeckis | 6
Philippe Petit wants to do the impossible: walk on a wire between the two World Trade Towers. He overcomes a lot of resistance, betrayels, and risks with the help of his mentor Papa Rudy.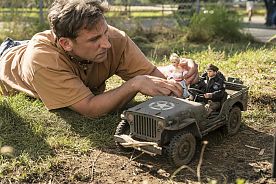 Welcome to Marwen | USA 2018 | Drama, Biography | Robert Zemeckis | 12
Based on the true-life story of Mark Hogancamp. WELCOME TO MARWEN describes how an artist recovered from a traumatic assault by projecting his anxieties and dreams into a world of dolls and models.
Back to the Future | USA 1985 | Science Fiction | Robert Zemeckis | 12
With his friend Doc Brown's time machine Marty is sent back in time to 1955. He meets his future parents and accidentally becomes his mother's romantic interest instead of his father.
Back To The Future, Part III | USA 1989/1990 | Science Fiction | Robert Zemeckis | 12
Doc Brown ends up in the Wild West. Instead of working on getting back to the present, he falls in love with Clara, a teacher. Marty sets out to save Doc but runs out of gas.
ALLE ANGABEN OHNE GEWÄHR.
Die Inhalte dieser Webseite dürfen nicht gehandelt oder weitergegeben werden. Jede Vervielfältigung, Veröffentlichung oder andere Nutzung dieser Inhalte ist verboten, soweit CINEMATIC BERLIN nicht ausdrücklich schriftlich ihr Einverständnis erklärt hat.