Movie archive: 6 search hits
Interviews: no search hits
Movie archive
USA/Großbritannien 2016 | Tragicomedy | Andrea Arnold | 12
In her first American movie Andrea Arnold (RED ROAD, FISH TANK) follows a bunch of dirt-poor twentysomethings on a hypnotic and meandering road trip headed towards nowhere in particular.
C'mon C'mon | USA 2021 | Drama | Mike Mills
Radio journalist Johnny (Joaquin Phoenix) interviews children in different cities about their plans, worries, and also, what makes them happy. When his sister Vivien has to take care of her mentally distressed ex-husband, Johnny takes Vivien's ...
Irland/Großbritannien 2018 | Drama, History, Comedy | Yorgos Lanthimos | 12
No one has filmed malice, lies, deception as wonderfully as Yorgos Lanthimos has in THE FAVOURITE in a long time.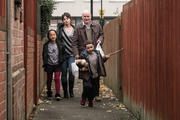 I, Daniel Blake | Frankreich/Großbritannien 2016 | Drama | Ken Loach | 6
I, DANIEL BLAKE is an angry film about the systematic humiliation of the British working class. After suffering a heart attack carpenter Daniel Blake finds himself at the mercy of a social system that has no interest in helping him. He teams up with ...
Großbritannien/Neuseeland 2015 | Action, Thriller, Western | John Maclean | 12
In this postmodern western Jay (Kodi Smit-McPhee), a young Scottish emigrant, travels to the West to find his girl. He pays a ruthless bounty hunter (Michael Fassbender) to protect him.
Großbritannien 2020 | Drama | Sally Potter | oA
Leo (Javier Bardem), who suffers from advanced brain atrophy, a kind of dementia. He spends his days under the bed covers in his barren New York apartment while his daughter Molly (Elle Fanning) tries to look after him.
ALLE ANGABEN OHNE GEWÄHR.
Die Inhalte dieser Webseite dürfen nicht gehandelt oder weitergegeben werden. Jede Vervielfältigung, Veröffentlichung oder andere Nutzung dieser Inhalte ist verboten, soweit CINEMATIC BERLIN nicht ausdrücklich schriftlich ihr Einverständnis erklärt hat.