Movie archive: 7 search hits
Interviews: no search hits
Movie archive
USA 2021 | Science Fiction, Adventure, Literary Film Adaptations | Denis Villeneuve | 12
Long-awaited film version of Frank Herbert's scifi-epic. Political intrigue and giant sandworms on the desert planet Arrakis. Young Paul Atreides has to face up to his destiny.
The Promise | USA/Spanien 2016 | Drama, Historical Film, Love Stories | Terry George | 12
Star Wars: Rise of Skywalker | USA 2019 | Science Fiction, Adventure | J.J. Abrams | 12
Second-time helmer J.J. Abrams has always been less about exciting new things and more about delivering faithful homages. In this respect, he's brought the latest series to a conclusion that feverishly tries to stack up one surprise after another ...
Star Wars: Episode VIII: The last Jedi | USA 2017 | Science Fiction, Adventure | Rian Johnson | 12
The 8th part of the sci-fi fantasy series directed by Rian Johnson.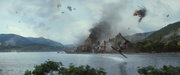 Star Wars: The Force Awakens | USA 2015 | Adventure, Action, Science Fiction | JJ Abrams | 12
The new STAR WARS movie.
USA 2017 | Crime Comedy, Mystery | George Clooney | 16
SUBURBICON tells the story of the disintegration of a model family and a model suburb in 1950s America from the prespective of a young boy. The screenplay is written by the Coen brothers and the film is directed by Goerge Clooney.
At Eternity's Gate | Großbritannien/Frankreich/USA 2018 | Biography, Drama | Julian Schnabel | 6
The best film about Van Gogh since Maurice Pialat's VAN GOGH (1991) and Robert Altman's VINCENT AND THEO (1990) depicts the artist as a pioneer of gestural painting and a forerunner of expressionist abstraction.
ALLE ANGABEN OHNE GEWÄHR.
Die Inhalte dieser Webseite dürfen nicht gehandelt oder weitergegeben werden. Jede Vervielfältigung, Veröffentlichung oder andere Nutzung dieser Inhalte ist verboten, soweit CINEMATIC BERLIN nicht ausdrücklich schriftlich ihr Einverständnis erklärt hat.