Cinema listings: no search hits
Movie archive: 6 search hits
Interviews: no search hits
Movie archive
The Truman Show | USA 1998 | Satire | Peter Weir | 12
USA 2016 | Drama | Oren Moverman | 12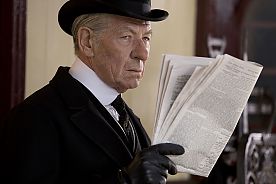 Großbritannien 2014 | Drama, Crime Drama | Bill Condon | oA
As the great Sherlock Holmes (played by the great Ian McKellen) approaches old age, his mind begins slipping. Before all is lost, he wants to reconstruct the details of his final case.
USA 2016 | Biography, Drama | Clint Eastwood | 12
Clint Eastwood tells the spectacular tale of the emergency landing of flight 1549 on the Hudson River from the perspective of down-to-earth pilot "Sully" Sullenberger played by Tom Hanks with calm integrity.
USA 2016 | Drama | Oren Moverman
Two couples – played by Steve Coogan, Laura Linney, Richard Gere, and Rebecca Hall – meet for a luxurious 7 course menu. In reality, the dinner is an emergency meeting: their sons attacked a defenseless homeless woman.
Großbritannien 2020 | Drama | Sally Potter | oA
Leo (Javier Bardem), who suffers from advanced brain atrophy, a kind of dementia. He spends his days under the bed covers in his barren New York apartment while his daughter Molly (Elle Fanning) tries to look after him.
ALLE ANGABEN OHNE GEWÄHR.
Die Inhalte dieser Webseite dürfen nicht gehandelt oder weitergegeben werden. Jede Vervielfältigung, Veröffentlichung oder andere Nutzung dieser Inhalte ist verboten, soweit CINEMATIC BERLIN nicht ausdrücklich schriftlich ihr Einverständnis erklärt hat.