Movie archive: 4 search hits
Interviews: no search hits
Movie archive
Death Proof | USA 2007 | Horror | Quentin Tarantino | 16
Psychopath Mike traps innocent Pam and her two friends in his car and kills them in a crash. When he tries to repeat this sick game with another female trio, he meets with unexpected resistance.
The Thing | USA 1982 | Horror, Science Fiction | John Carpenter | 16
A husky finds shelter in a US polar station. What the researchers don't know is that they have an alien organism with them which can take the form of any living creature and wants to kill them all.
USA 2015 | Western | Quentin Tarantino | 16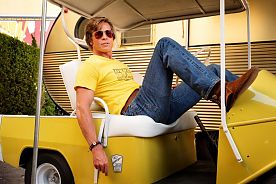 Once Upon a Time in Hollywood | USA 2019 | Drama, Crime Drama, Thriller | Quentin Tarantino
Though the Manson murders serve as the hook – Tarantino's ONCE UPON A TIME...IN HOLLYWOOD is less about Charles Manson, Sharon Tate, and Roman Polanski and more about the myth of Hollywood.
ALLE ANGABEN OHNE GEWÄHR.
Die Inhalte dieser Webseite dürfen nicht gehandelt oder weitergegeben werden. Jede Vervielfältigung, Veröffentlichung oder andere Nutzung dieser Inhalte ist verboten, soweit CINEMATIC BERLIN nicht ausdrücklich schriftlich ihr Einverständnis erklärt hat.