Cinema listings: no search hits
Movie archive: 14 search hits
Interviews: no search hits
Movie archive
Women Talking | USA 2022 | Drama | Sarah Polley
After the men of a Mennonite community get convicted of multiple rapes, the women have to decide what they are going to do. Sarah Polley's unconventional adaptation of Miriam Toew's novel follows the womens' discussion.
Blood Simple | USA 1984 | Thriller, Crime, Crime Drama | Joel Coen | 18
A revival of the restored version of the Coen brothers 1984 debut. Bar owner Marty hires sleazy detective Vissar to kill his wife Abby and her lover Ray, but Vissar has his own plans.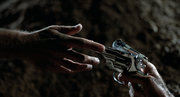 Blood Simple | USA 1984 | Crime Drama, Thriller | Joel Coen | 16
The debut feature of the Coen Brothers is a bloody neo-noir where things ecalate bloodily from a jealous husband putting a PI on his wife's tail.
USA/Deutschland 2020 | Comedy | Wes Anderson | 12
In his most recent film Wes Anderson tells stories about the last edition of an imaginary American magazine in an imaginary French town.
Isle of Dogs | USA 2018 | Animation, Adventure, Comedy | Wes Anderson | 6
Wes Anderson's animated film is set on a Trash Island near the imaginary Japanese city Megasaki. The mayor has banned all dogs from the city and all the canines lead a miserable existence until 12 year old Atari looks for his dog Spot on the ...
North Country | USA 2005 | Drama | Niki Caro | 12
The Tragedy of Macbeth | USA 2021 | Drama, Historical Film, Theateradaption | Joel Coen
Mississippi Burning | USA 1988 | Drama | Alan Parker | 16
USA 2020 | Drama | Chloé Zhao | oA
Fern (Frances McDormand) becomes one of the "nomads" after the death of her husband. The community lives in trailers at the margins of society leading a life somewhere between poverty and freedom.
Three Billboards Outside Ebbing, Missouri | USA 2017 | Crime Drama | Martin McDonagh | 12
In the fictional town of Ebbing, Mildred Hayes (Frances McDormand) posts sentences on three billboards meant to bring the resting investigation of her daugher's rape and murder back into motion.
The Man Who Wasn't There | USA 2001 | Crime Comedy | Joel Coen | 12
ALLE ANGABEN OHNE GEWÄHR.
Die Inhalte dieser Webseite dürfen nicht gehandelt oder weitergegeben werden. Jede Vervielfältigung, Veröffentlichung oder andere Nutzung dieser Inhalte ist verboten, soweit CINEMATIC BERLIN nicht ausdrücklich schriftlich ihr Einverständnis erklärt hat.