Movie archive: 8 search hits
Interviews: no search hits
Movie archive
Twelve Years a Slave | USA 2013 | Biography, Drama | Steve McQueen | 12
Solomon Northup used to be a free man before he was kidnapped and sold as a slave. For 12 years he struggles to be set free again. Steve McQueen's (HUNGER, SHAME) adaptation of Northup's autobiography was the main winner of the Academy Awards 2014.
USA 2019 | Science Fiction, Thriller | James Gray | 12
Astronaut Roy McBride travels to the outer edges of the solar system to look for his missing father. He uncovers secrets that call human existence and our place in the universe in question on his journey.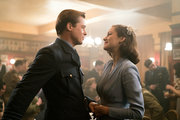 Allied | USA 2016 | Action, Drama | Robert Zemeckis | 12
British secret agent Max Vatan and French resistance fighter Marianne Beausejour meet during World War II. They reunite in London where their love is put to the test.
USA 2015 | Drama | Adam McKay | 6
The misanthropic broker Michael Burry sees the big crash coming and starts taking out bets against the supposedly safe real estate market. When his colleagues smell the rat they want a share too.
Burn After Reading | USA 2008 | Comedy, Crime Drama | Ethan Coen, Joel Coen | 12
Spy comedy by the Coen Brothers about various more or less dimwitted characters following schemes to get rich.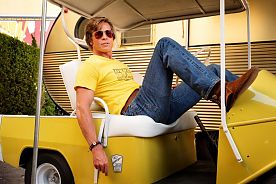 Once Upon a Time in Hollywood | USA 2019 | Drama, Crime Drama, Thriller | Quentin Tarantino
Though the Manson murders serve as the hook – Tarantino's ONCE UPON A TIME...IN HOLLYWOOD is less about Charles Manson, Sharon Tate, and Roman Polanski and more about the myth of Hollywood.
ALLE ANGABEN OHNE GEWÄHR.
Die Inhalte dieser Webseite dürfen nicht gehandelt oder weitergegeben werden. Jede Vervielfältigung, Veröffentlichung oder andere Nutzung dieser Inhalte ist verboten, soweit CINEMATIC BERLIN nicht ausdrücklich schriftlich ihr Einverständnis erklärt hat.